Rice. It was the only thing on my mind as I pushed through the crowds, past the many markets stalls, past the vendors selling spicy noodle broth and skewered meat, as great vats of hot oil bubbled next to them. Lunchtime, and everyone except me seemed to be stuffing their face with something good. "Rice". I demanded of a stall owner, "plain, white rice, do you have any?" She glared at me and shook her head. I moved on, trying one vendor after the other. No one would oblige, I was shooed away by everyone, it was as if I'd said a bad word. Hungry and confused, I marched on, a woman possessed. I knew what I had to do.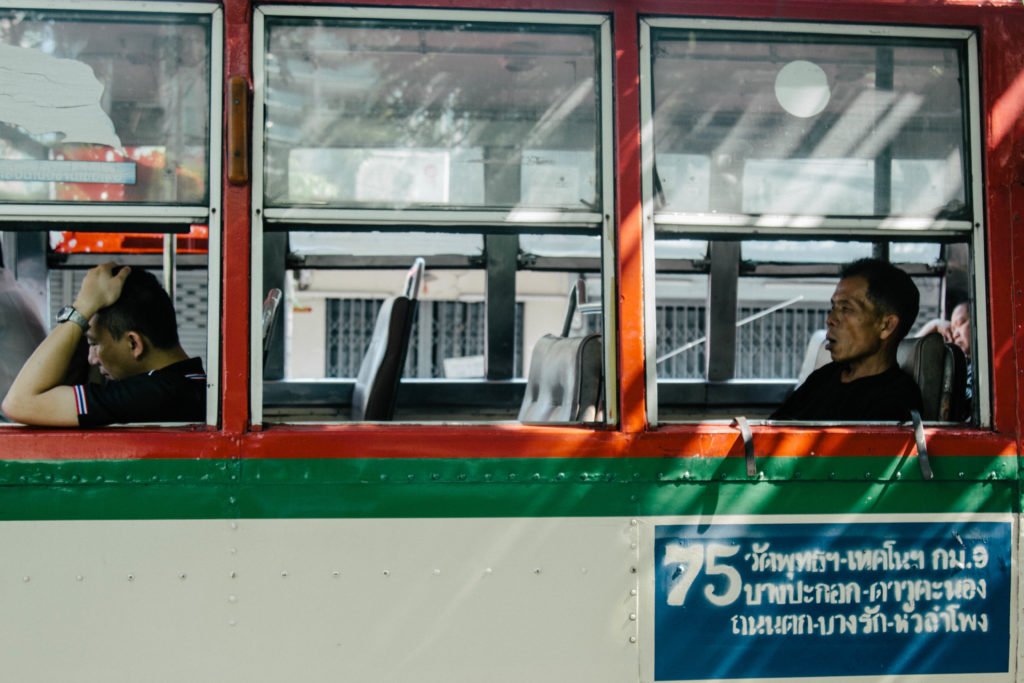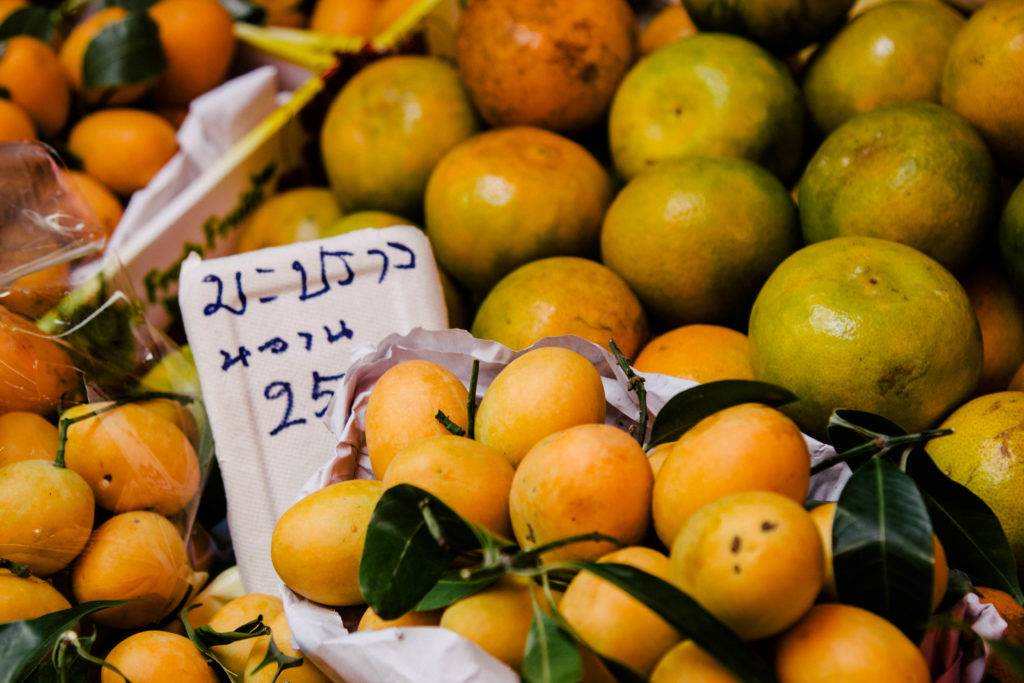 Half an hour later, we were seated in Lumpini Park, enjoying our (late) lunch picnic. I dug into my rice. Basmati rice. It would appear that the capital of Thailand is not the capital of rice. I had ended up buying my lunch from an Indian fast-food restaurant. In a mall. I will go to desperate means to get what I want. Other than for extremely picky eaters and difficult dietary requirements, Bangkok is an easy place to have a Far-East adventure. If, like me, you came this far to feel far, Bangkok will deliver. A short stroll down any one of the many Sois (as the little side-streets are known) and things get authentic. The most unique moments are those you stumble upon, far from the temple-trodden tourist trail.
Our plane from Phuket arrived in Bangkok's Suvarnabhumi International Airport at noon, and a couple of hours later we were being shown to our room at the Chatrium Riverside Hotel. I had wanted to end our time in Thailand on a high, so I'd chosen this five-star hotel (its still so cheap compared to most places). My jaw dropped when we stepped inside our room. It was so huge you could run laps inside, and the views…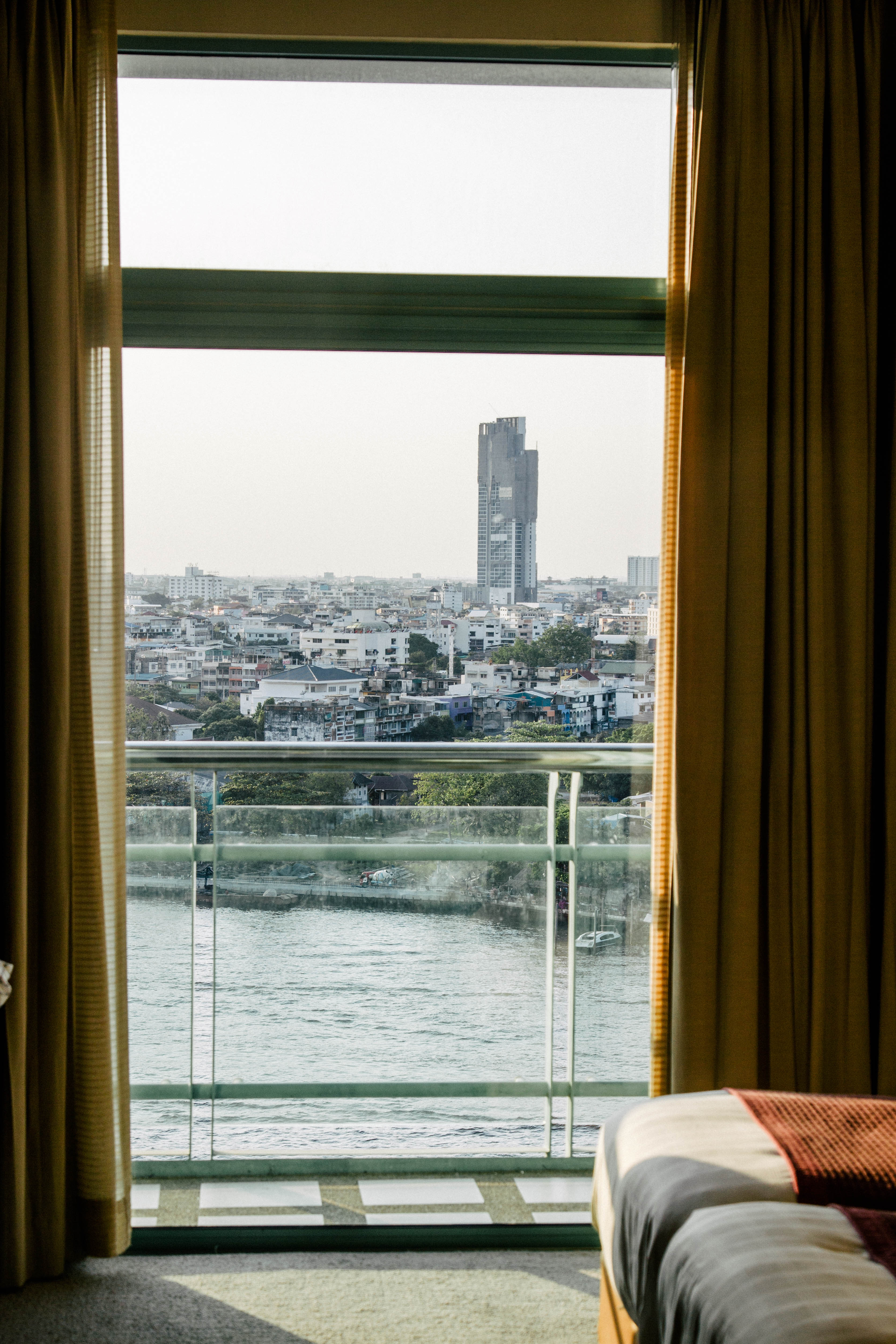 Once we'd gotten over the fact we'd be living the lap of luxury for the next two days, we headed out to explore. The hotel has its very own shuttle boat service (for free) to the next pier, Saphan Taksin, from where you can get to almost anywhere in Bangkok by taking the BTS Skytrain (it stops right by the pier). But that was for the next day. That first, late afternoon, we piled into the boat along with a gaggle of other guests. The skipper cast off, and the boat puttered along the Chao Phraya River, golden afternoon sunlight glinting on the water. The Chao Phraya is still very much a working river; barges ploughed past, fishermen in traditional long-boats raced by, a man and his dog watched us from their boat. Very soon, we were disembarking at the pier and were thrust into the heart of Bangkok.
The hotel is located in a quaint neighbourhood, full of quiet lanes and traditional stores; green and upmarket. In contrast, Saphan Taksin was gritty, crowded, chaotic. The real deal. We wandered past stalls selling hot soup to school kids, who sat slurping it on plastic chairs. Office workers loosened ties as they walked, iced-coffees in hand. The vegetable market had set up, as part of the Bangrak market area, the oldest thoroughfare in Bangkok. We browsed the greens, and I decided to buy a cucumber for a salad later. I brandished it at the stall owner, he said something incomprehensible back. "How much is this?" I tried again. Another indecipherable reply. I tried once more to purchase the vegetable. Finally, the penny dropped- his stall only opened at four pm. Ah, I'll come back then, I told him, and we moved on, to try bargaining somewhere else.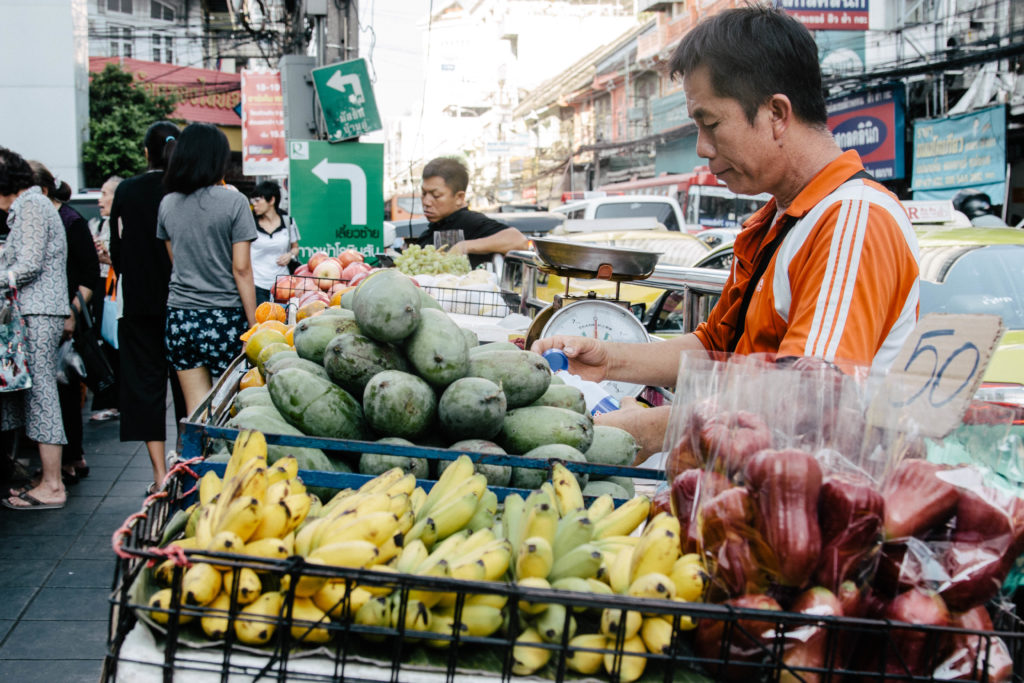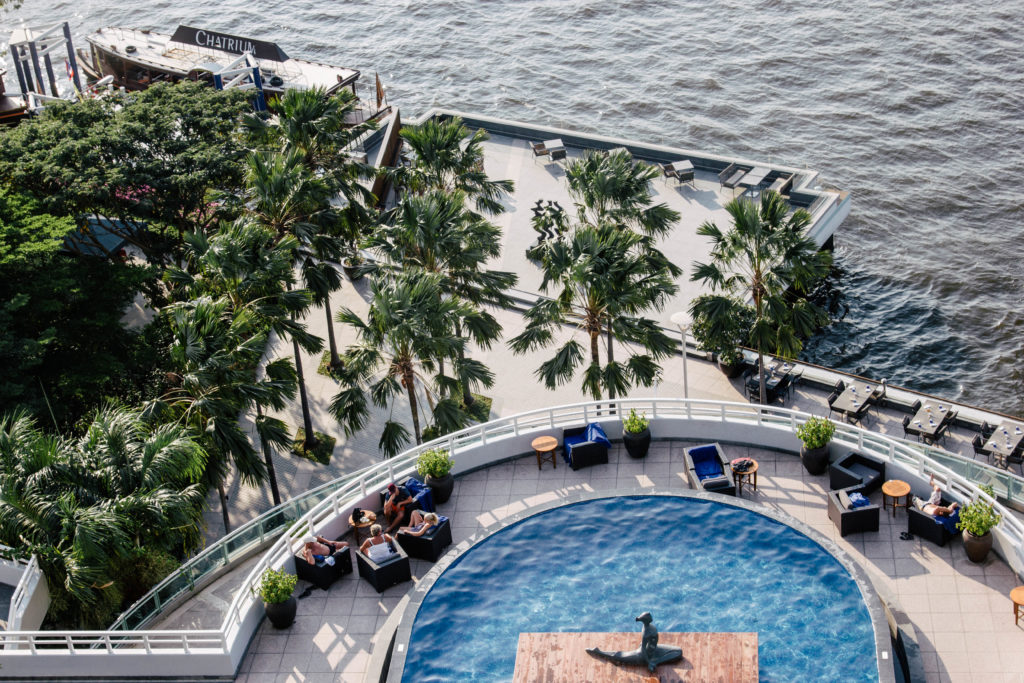 We bought juicy mangoes (two for eight baht) from a lady who threw in an extra for free (so I guess even eight baht was over priced). Tiny bananas are my favourite food in the tropics, so we bought a bunch of those. We haggled for Chang beer t-shirts and went back to buy the cucumber at precisely four pm. This time, the purchase was made without issue.
That evening, we headed down to the pool area as the sun was sinking. The humid day was being pushed away by an unexpectedly strong breeze off the river. The pool was cool and refreshing after the sweaty day, the sun sank slowly over the river. I stayed there till it got dark, so I could tick something else off my list- night swimming! The city shone with a million lights, the river water sparkled in the moonlight, as dark as wine. I shivered in the breeze.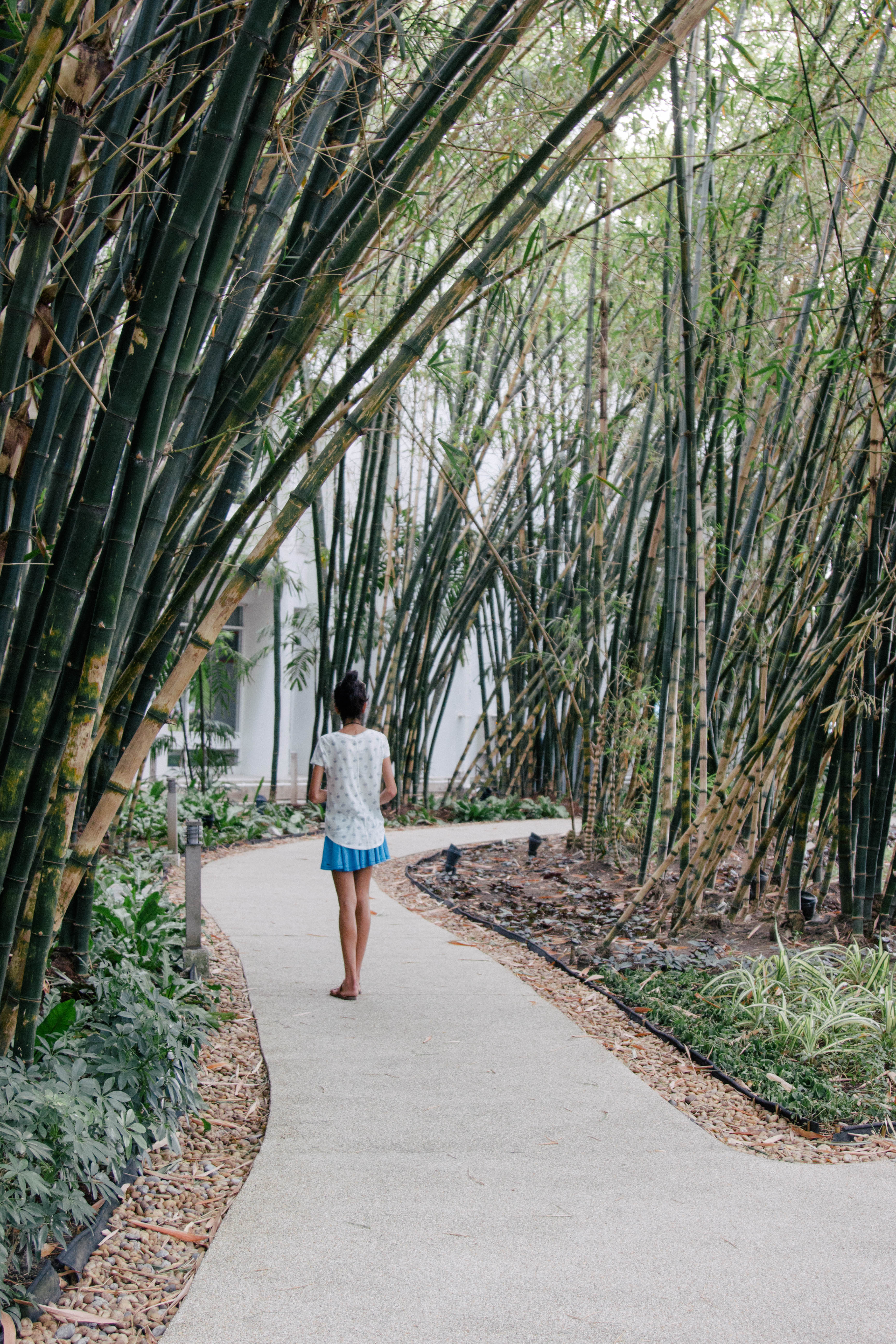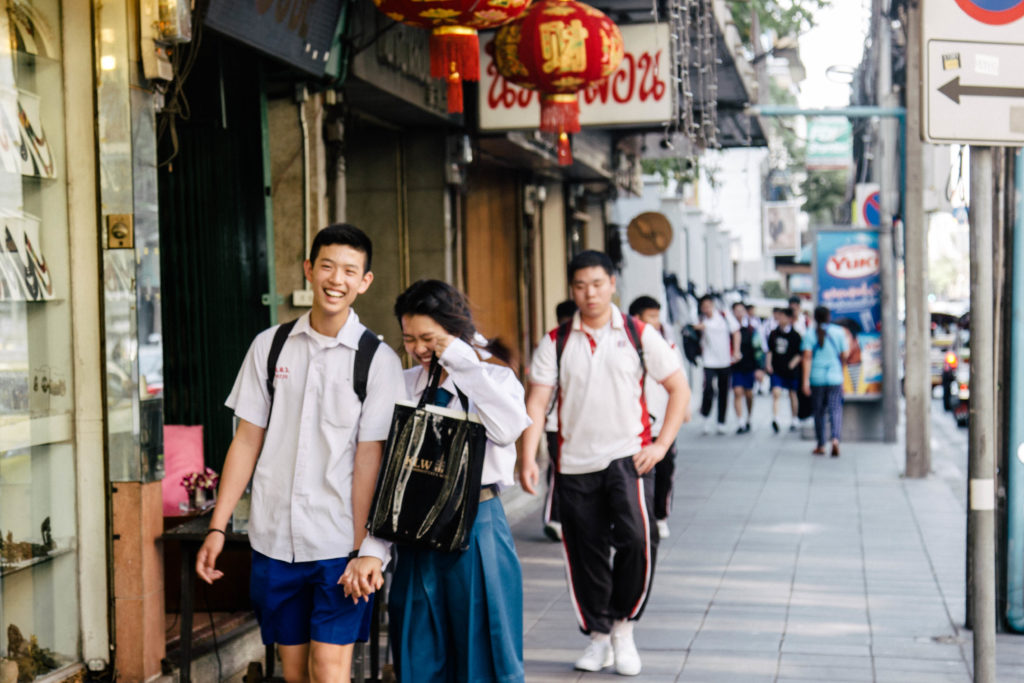 From our balcony, we sat and watched the night show. Party boats chugged down the river, each one a floating disco, with loud music, singing, dancing and eating. Barges continued their journeys, undeterred by the dark. Lights shone in all directions, every building illuminated. It was mesmerising, dizzying, it spoke of the future, of progress. We sat there for hours, not knowing which way to look, overcome by the lights.
The next morning, I headed back to the pool. The sun was up, it was just me and the new day. You could hear the city, but more as a faint hum, or buzz, in the distance. Instead, it was birdsong that was louder. Swim over, we decided to treat ourselves to the hotel's breakfast. We sat overlooking the river, as the day got started. Soon we too were back on the boat, headed out for a busy day.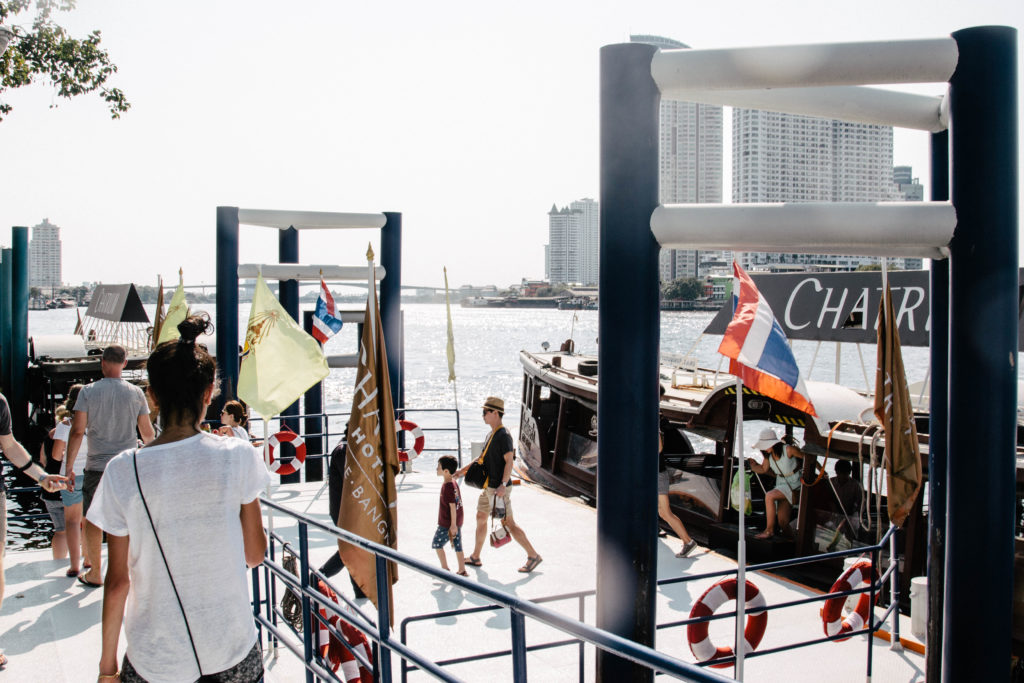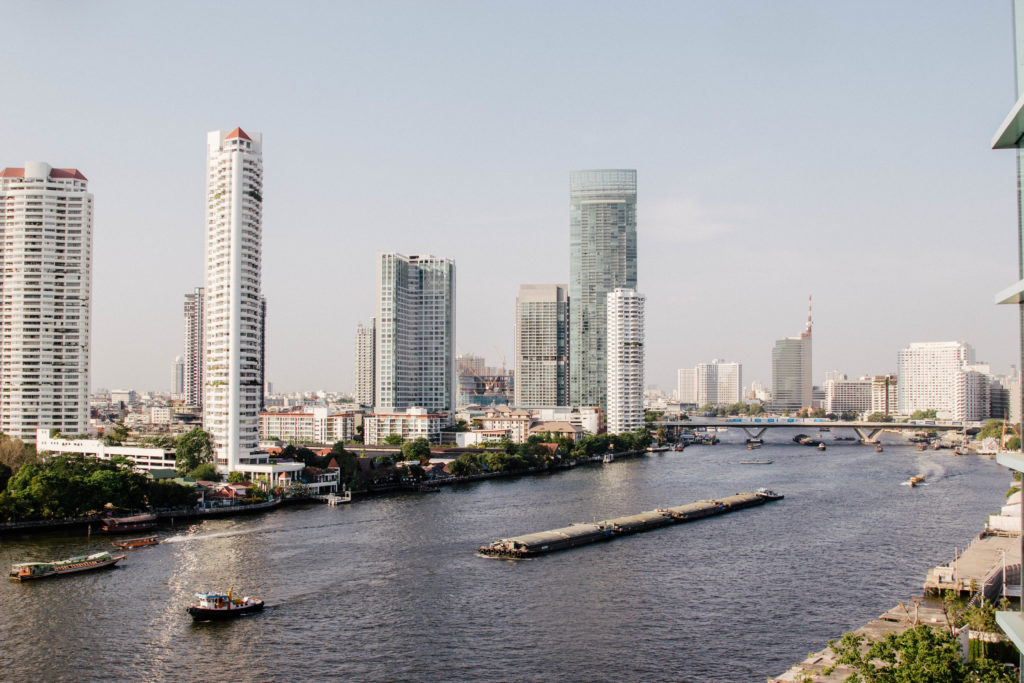 We caught the BTS Skytrain, headed direction Siam. We had debated what to do on our one full day in Bangkok since there was so much to see but so little time. In the end, like naughty schoolgirls playing truant, we decided to skip the famous temples and Grand Palace in favour of shopping malls. We are not infallible. Actually, the malls are arguably as important must-dos as anything else in Bangkok. With this plan in mind, we headed to Siam, where the biggest are clustered. The sky train was a revelation; lifted above the crowded streets, we sped past the traffic, but were still able to see the goings-on below. We got an insight into every day life, from the adverts on the screens (lots of cosmetics and health drinks) to watching the other passengers, mostly commuters and school kids; hardly any other tourists.
In Siam, we used the clever elevated walk ways to explore the malls. Below us, cars, motorbikes, tuktuks and taxis in flamingo pink rushed past, buses belched black fumes, masks were pulled on tighter by pedestrians. It was good to be above the chaos, but still able to witness it all, to feel the heat from the traffic, the smells, the buzz. Central World was a nice mall for a wander, almost empty with all the familiar shops from home. Siam Paragon was next, the most instagrammed place on earth apparently, so we had to check it out. Good thing we did. Full of designers, it had one whole floor dedicated to sports cars. We walked past a Maserati shop, one selling Rolls-Royces, Bentleys, BMWs, Porsche. Men and boys stared misty eyed through the glass, then wandered nonchalantly inside, as if they could maybe just pick one up instead of the groceries.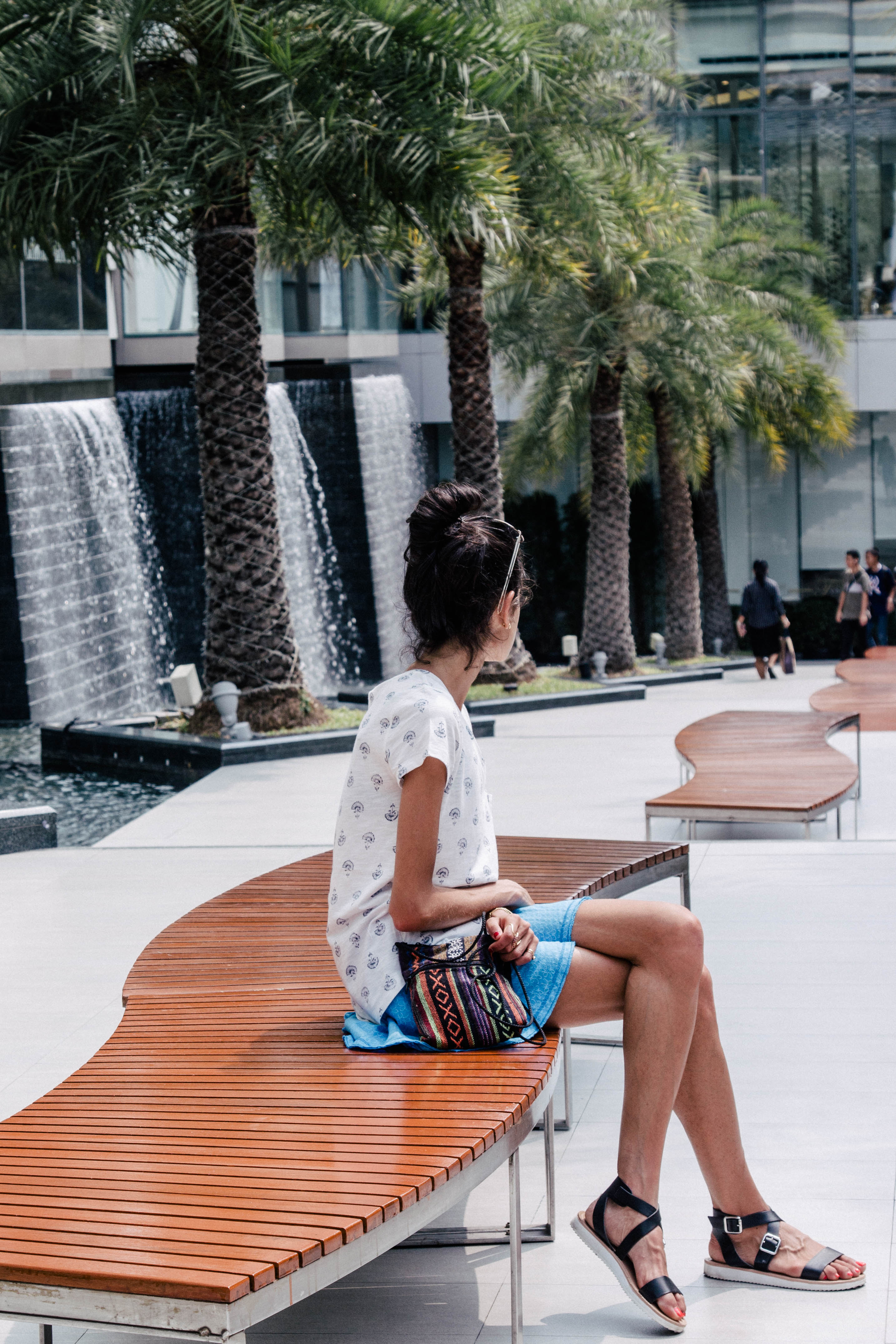 By now I was starving, hence the lunchtime panic to find rice. Lumpini park where we lunched was a couple of skytrain stops back, at Sala Daeng. A surprise in the middle of the city, a green lung with plenty of space to relax and pass a hot afternoon. Lunch over, we headed on, back on the train to the MBK centre. This is like a giant indoor market selling anything of questionable authencity- think phones, electronics, shoes, bags, the kitchen sink. I saw a dubious character or two browsing the wares, but mostly it was just other curious tourists and genuine bargain hunters.
We were waiting for the boat to head back, when a rough looking soul walked towards the pier. Finally, some sleaze in Bangkok! Turns out he was just there to feed the stray dogs. He might have had barely enough to feed himself, but he carried a large bag of left-over chicken for the dogs, patting their heads and talking to them. Clearly this was a common occurrence, an act of kindness I wasn't expecting.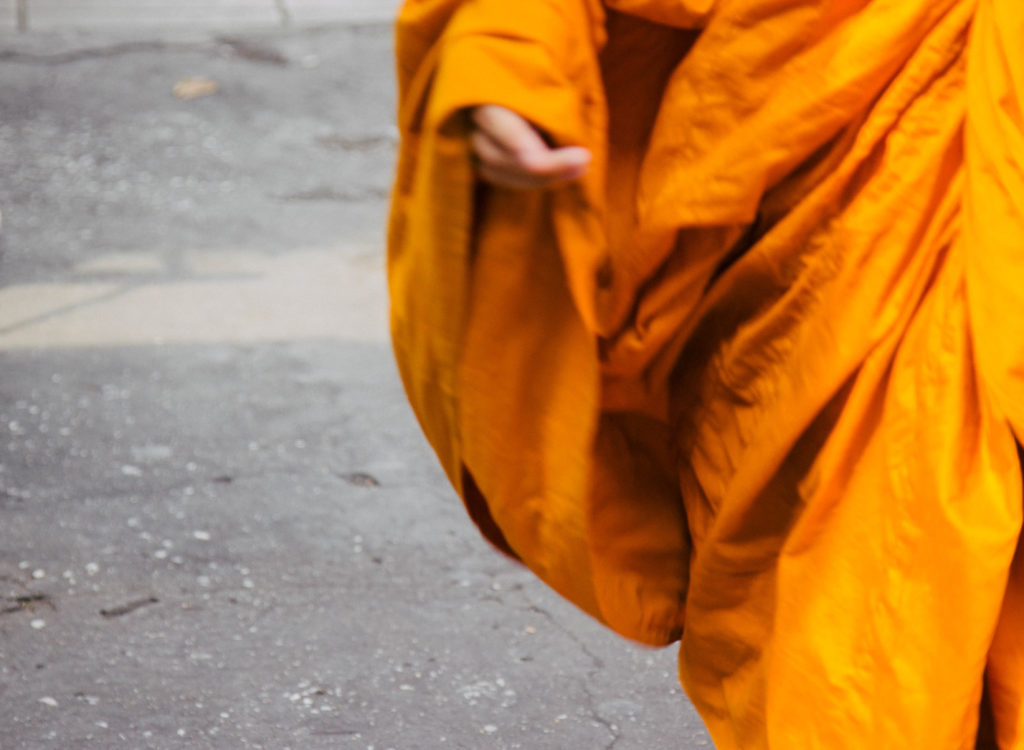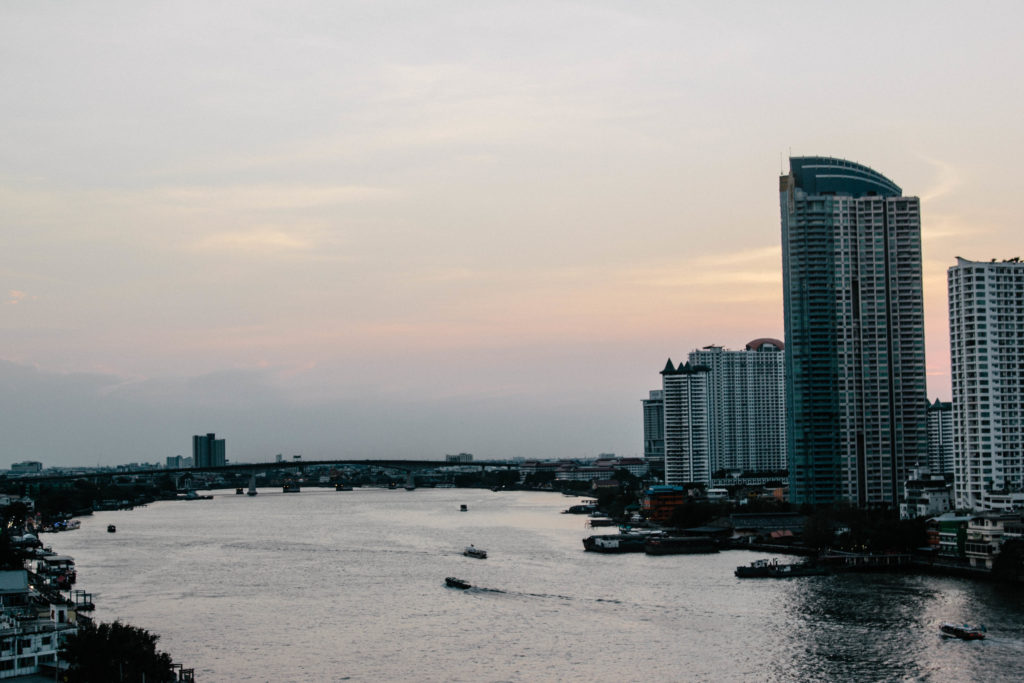 That night as our taxi whizzed us to the airport, over the haphazard flyovers, past the shiny buildings, each one glittering brighter than the stars, I thought about Bangkok. The contrasts; between old and new, traditional and modern. And of how its easy to be adventurous here, to glimpse real life. That visiting a shopping mall or taking a boat ride can count as sightseeing, as you are getting a real insight into how people live here, the everyday moments. From the chatty school girls bargaining for clothes in the mall, to the monks passing quietly by on busy streets, to the selfless homeless man, who shared food with the dogs, the people make the place, and its easy to be part of it. I didn't feel guilty about skipping the must-dos, but I might check them out next time.
Because I'll be back for sure.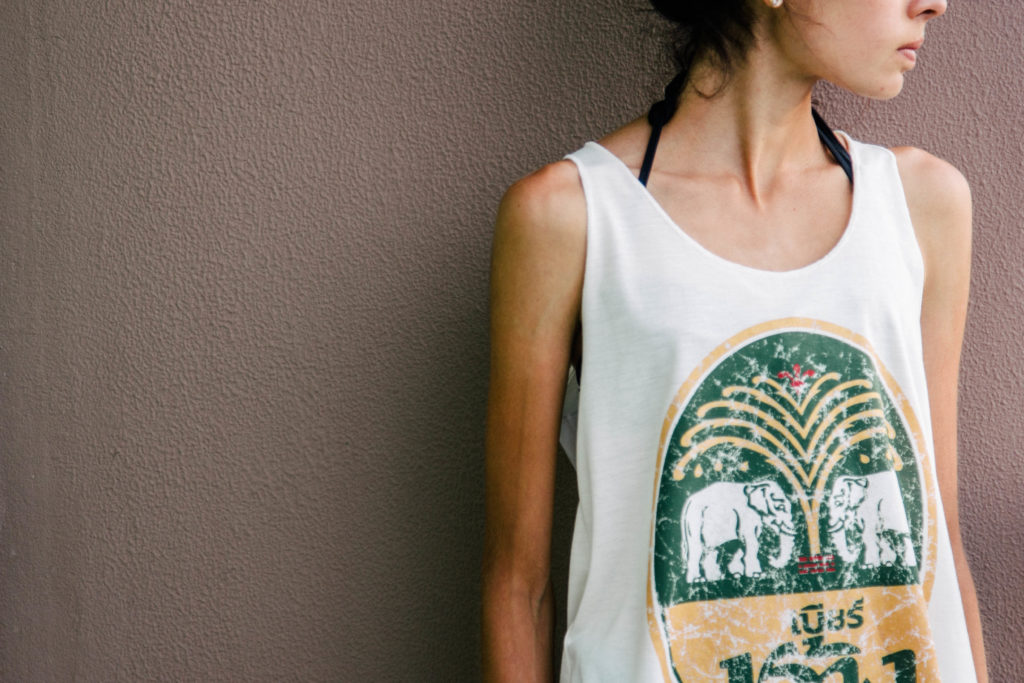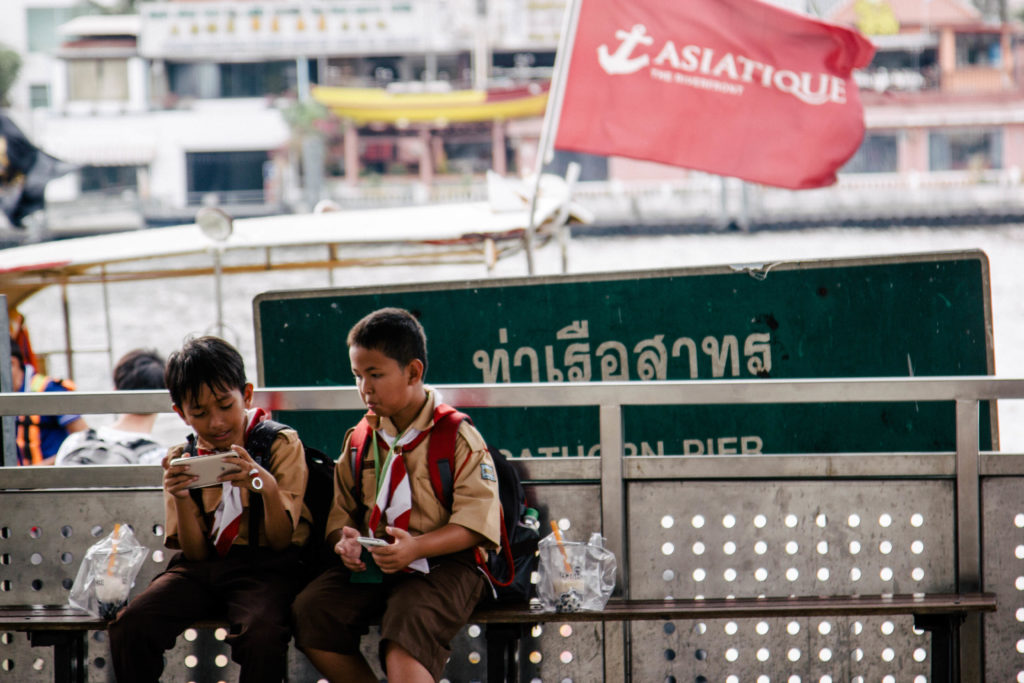 Practical stuff:
Getting here- Bangkok's Suvarnabhumi International Airport is a major hub for flights to the Far East and so getting a bargain air fare deal is not uncommon. I got a great price with Thai Airways on their A380. Check out Sky Scanner for deals.
Where to stay- I can't recommend Chatrium Riverside Bangkok highly enough. Even the cheapest rooms are immense, and the views epic. Plus the free shuttle boat is so handy and the pool is great! I booked on Agoda, they're good for deals too.
Getting around- USE THE SKYTRAIN. We bought day passes and found them seriously good value. All the major sights are clustered around the train's stops, so you barely have to go far. And most things are connected by elevated walkways (told you Bangkok was easy).
What to do- The main malls are Central World, Siam Paragon, Siam Discovery (all in Siam Square) and the MBK Centre (one stop further at National Stadium). The temples are best reached by boat. Taxis are highly avoidable (traffic is murder) and tuk-tuks are not for the faint of heart.
Other stuff- Bangkok is hot and felt even warmer than Phuket, because of the humidity. Make sure you take AC breaks in the malls (another plus for them) and in 7-11s (and buy iced drinks). I think I mentioned Travel Fish last time, but I'll repeat it, they are really really useful. They have an in-depth guide to the BTS skytrain and its stops.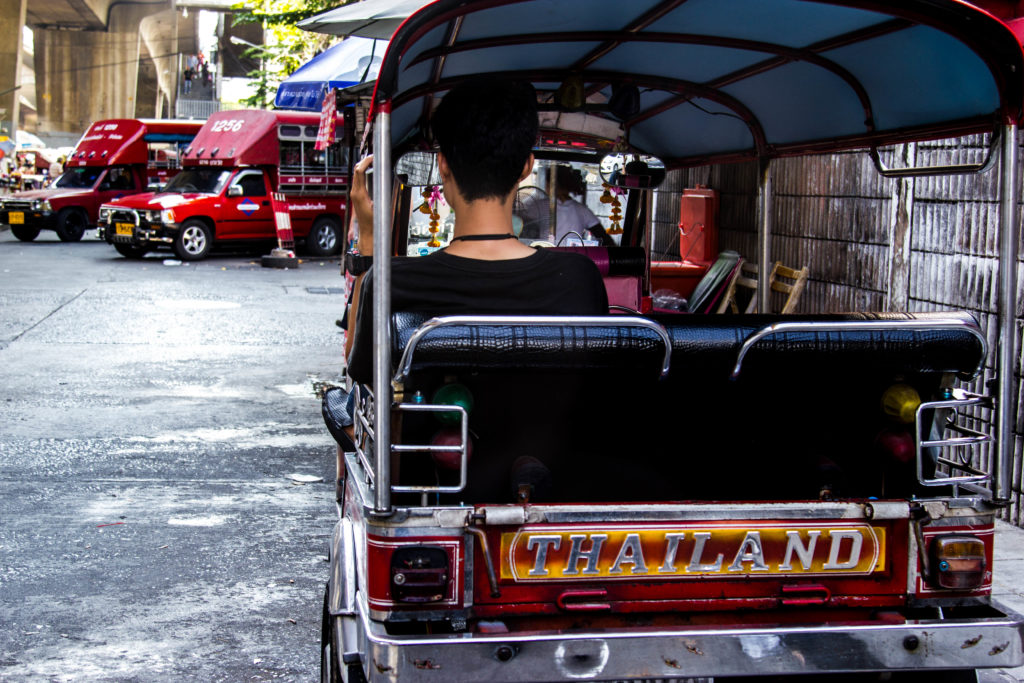 I had a fab time in Bangkok and Thailand in general, and will be back for sure! Thanks to Maya for the epic photos. Read about part one of my Thailand trip, in Phuket, if you haven't yet!