Nothing. No planes, no cars, no machinery. I couldn't remember the last time I had been surrounded by such peace, alone with my thoughts. Not quite alone though; there was the sweet song of the blackbird, the mooing of cows from a distant farm, the breeze through the apple blossom trees. I shared the quiet evening with a bird of prey, far overhead, surveying the resting valley. What a view she must have; a patchwork of fields of green and yellow, dotted with plump white sheep, cows and horses like daisies in a meadow. It was one thing to drive through this bucolic landscape, it must be incredible to see it from above.
Its hard to believe that barely 80 years ago Normandy was a mud churned battlefield, soaked red with blood. Probably most well-known for its landing beaches, we were staying in the southern part of Normandy, away from those and deep in the countryside. It had been a while since we had last visited France, and I was hoping that it was still the place I remembered and loved; that the recent events hadn't changed things for the worse. I wasn't disappointed. We enjoyed a balanced week of adventure and relaxation, discovering another part of one of my favourite countries.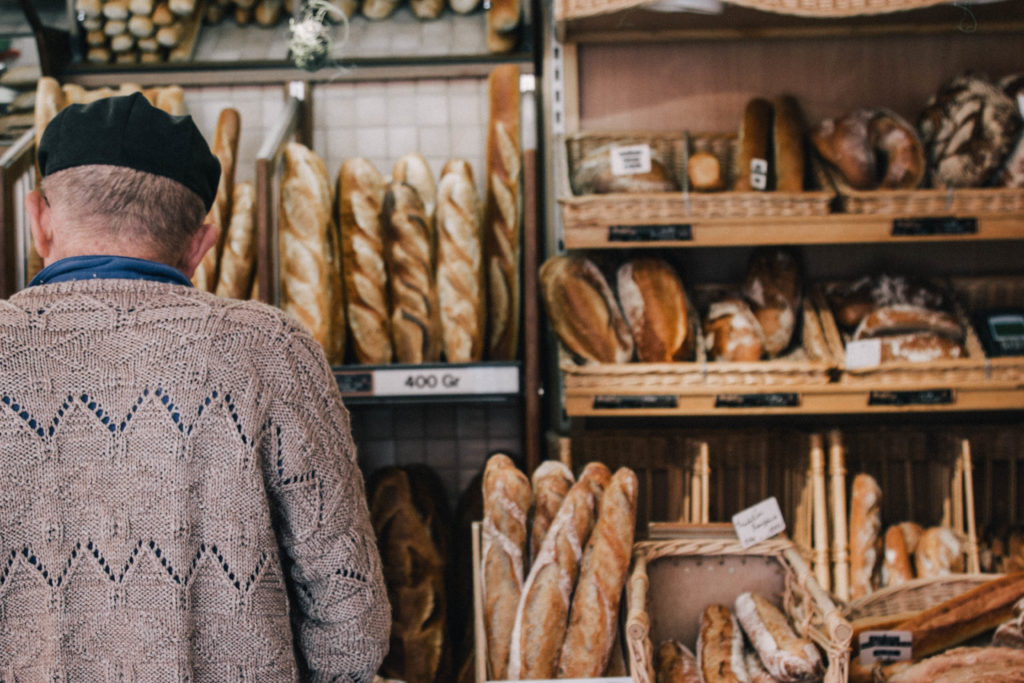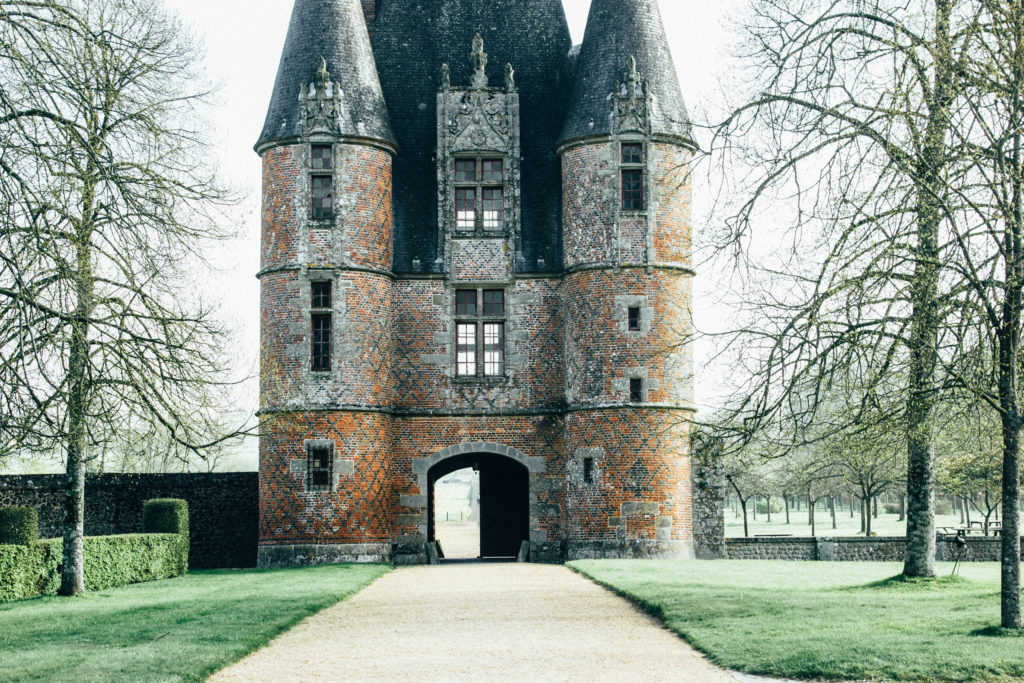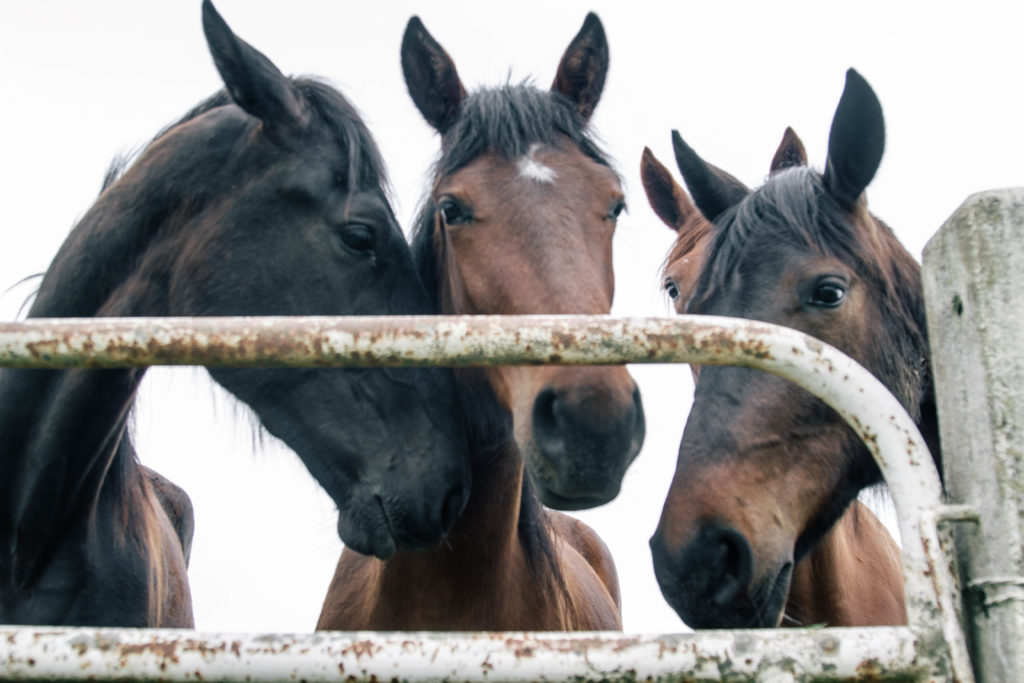 After an uneventful channel crossing, and a four hour drive South-West from Calais, we arrived in the heart of Normandy. Other than getting a little lost (blame Rachael) we found our home for the week 'La Balyrie', a converted barn in the middle of lush pasture. As soon as the car was turned off, there was nothing but quiet and calm. My mind stopped racing, the headache I had faded. I wanted nothing more than to sink into the dry grass, in the middle of those fields and drift. The dogs joined me, and we headed into the garden, surrounded by rolling emerald in all directions. I sprawled out, closed my eyes, enjoyed the bird song and the warm evening till the sun set over the valley.
After a deep old sleep (the French country air seemed to knock me out each night), we set out the next morning for a walk, the dogs eager to get out into that countryside. They were both in heaven, sniffing new scents, their noses soon covered in dew. It was fresher out now, which set the tone for the rest of the week (we were blessed with dry, mostly sunny weather, even if it wasn't warm). Each morning began like this, before we packed a picnic and set off, mum bravely taking the wheel. On our first morning we headed to the village of Briouze where the Monday market was in full swing. Pearly white cauliflower each as big as a tyre sat alongside earthy carrots, leafy greens and all manner of fresh fruit. We practiced our French, filled up our bags and visited la boulangerie. Then onwards through the D-roads that twisted and turned, each bend revealing a new view. Mustard flowers grew in abundance, dotting the green hills with buttercup yellow. The sky above was a pale blue, flecked with light clouds hurrying past with the wind, creating shadows over the valley. The landscape was like a quilt of earthy colours, forever changing with the sun and shadows.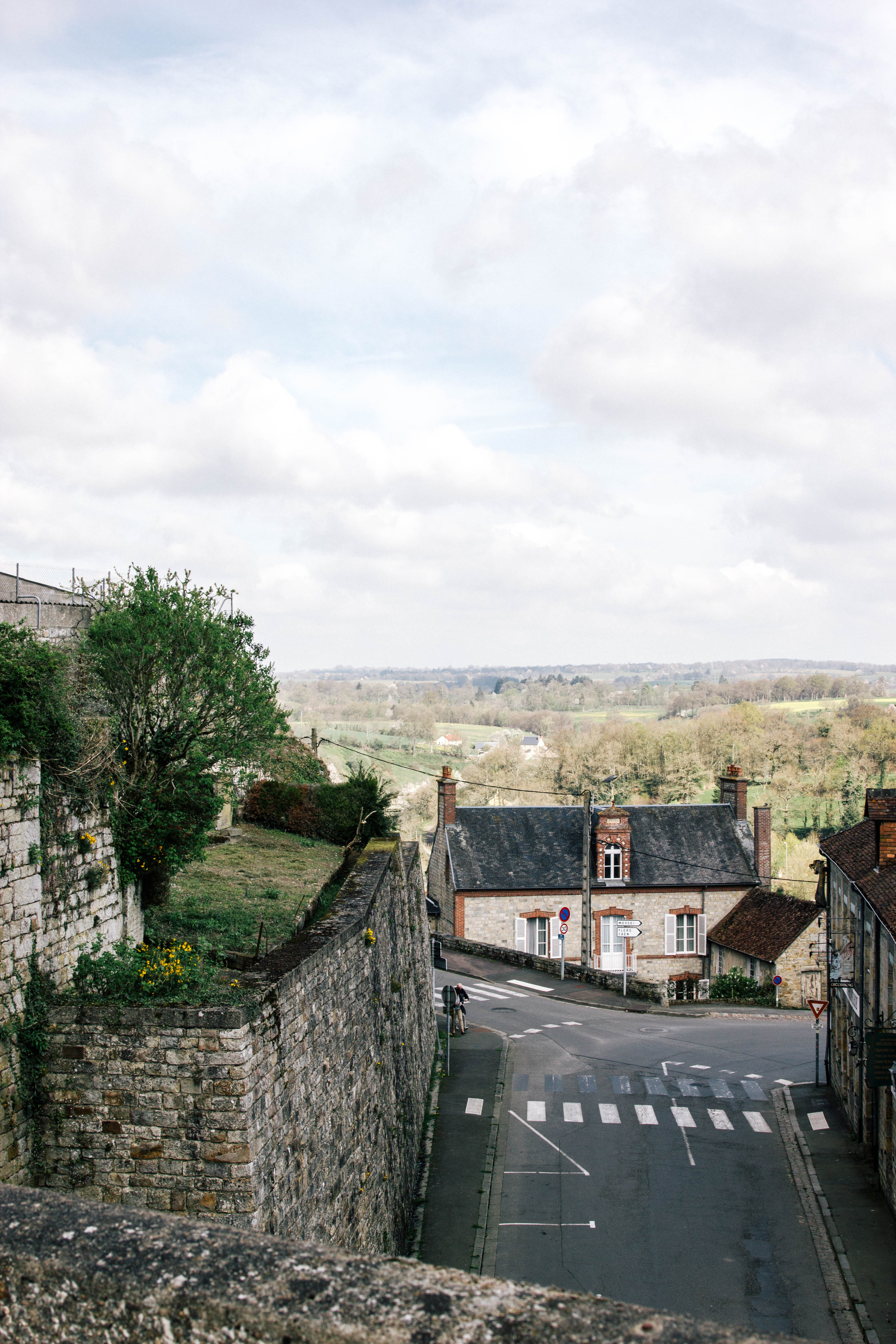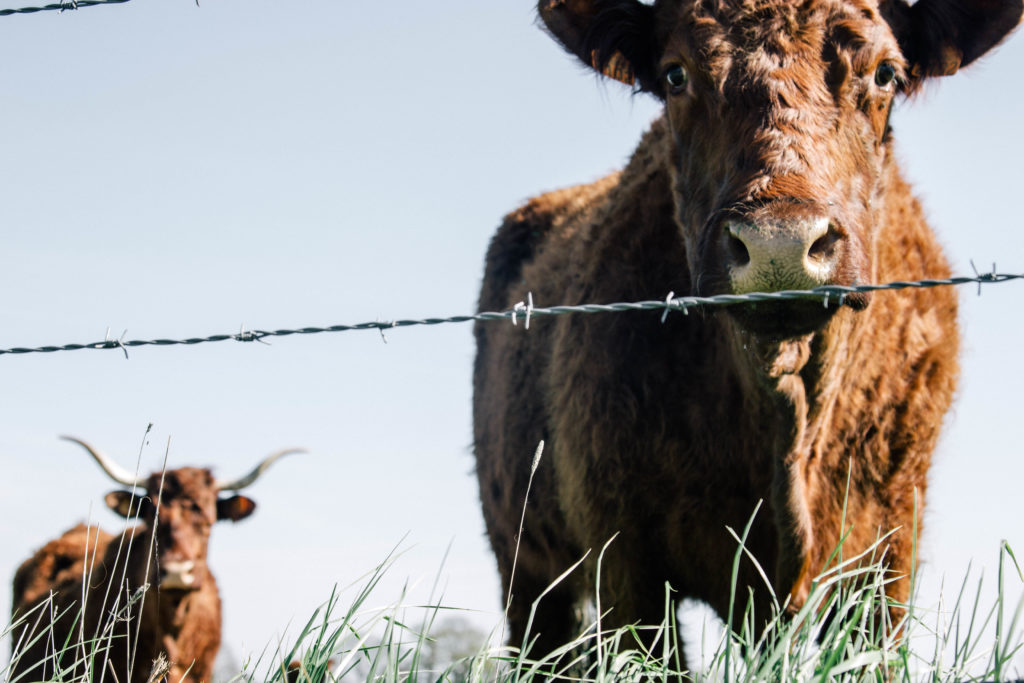 Each day I'd try to plan a roughly circular route through the countryside, and we'd stop along the way at anywhere that took our fancy. Luckily, there was a surprise around each twist in the road, each turn revealing a sleepy hamlet, its cottages made of honey-hued stone, festooned with flowers. In the village of Domfront, we stopped to explore the medieval centre of half-timbered houses, and gardens with breathtaking views of that countryside. We looped back, through the woods; another change of scenery. By now we were starving, so we stopped for a picnic lunch- we even managed to find a picnic bench! The doggies begged for scraps (or rather Prune did) and the weak spring sunshine and hot drinks warmed us up.
The next day dawned foggy, but that wouldn't stop us and we set off to explore. As the car crested a hill, a Chateau rose out of the mist, like something in a Disney movie. Set on the outskirts of Carrouges, it was breathtaking. Unlike some of the famous Chateau where your view is obscured by the selfie-stick wielding crowds, here we were alone on that April morning. I could have my princess moment, pretending I was royalty sweeping up the wide paths, over the draw-bridge. I chose the turret room in true Rapunzel fashion. Onwards we went, passing beautiful farm houses set deep in pockets of the valley. We had decided by then that we needed to buy our own little place in France and so each barn, cottage or ruin we passed prompted a chorus of 'how about that one'?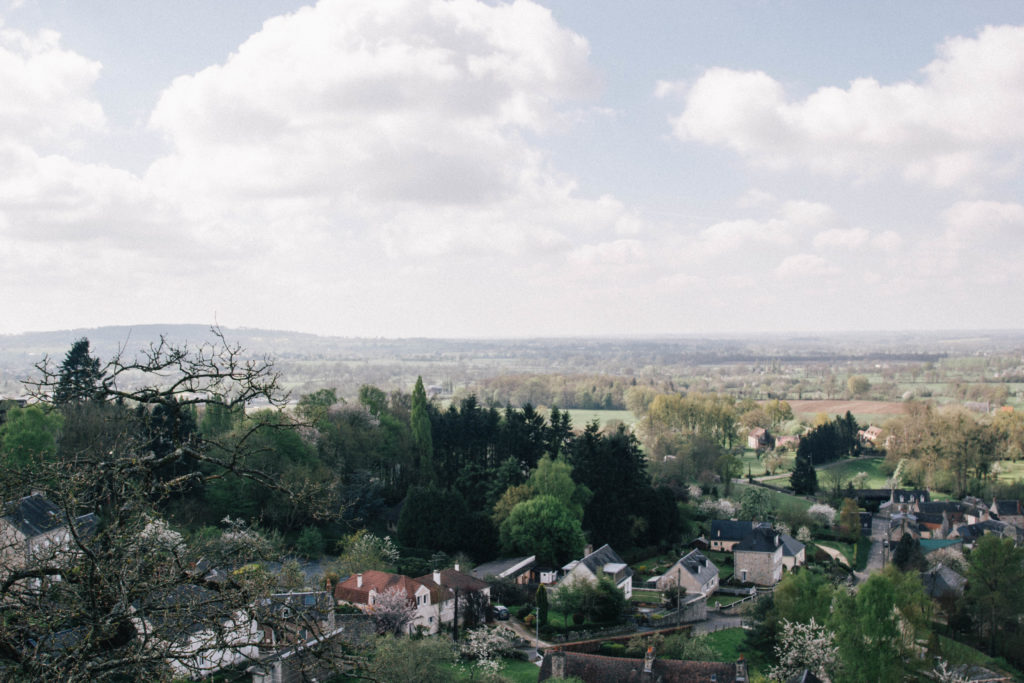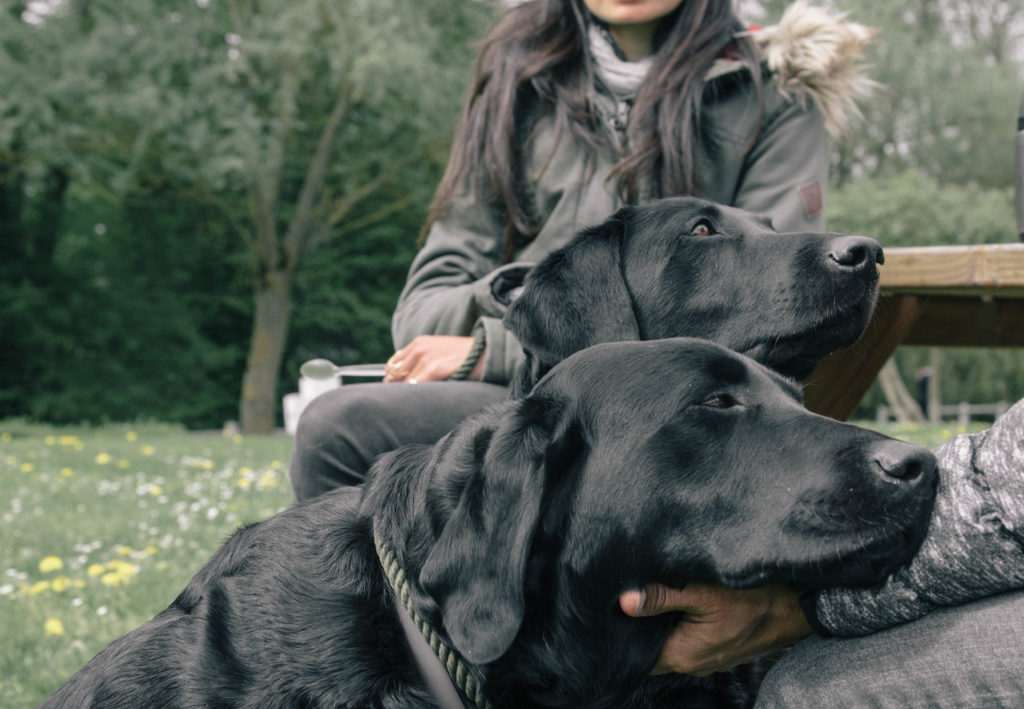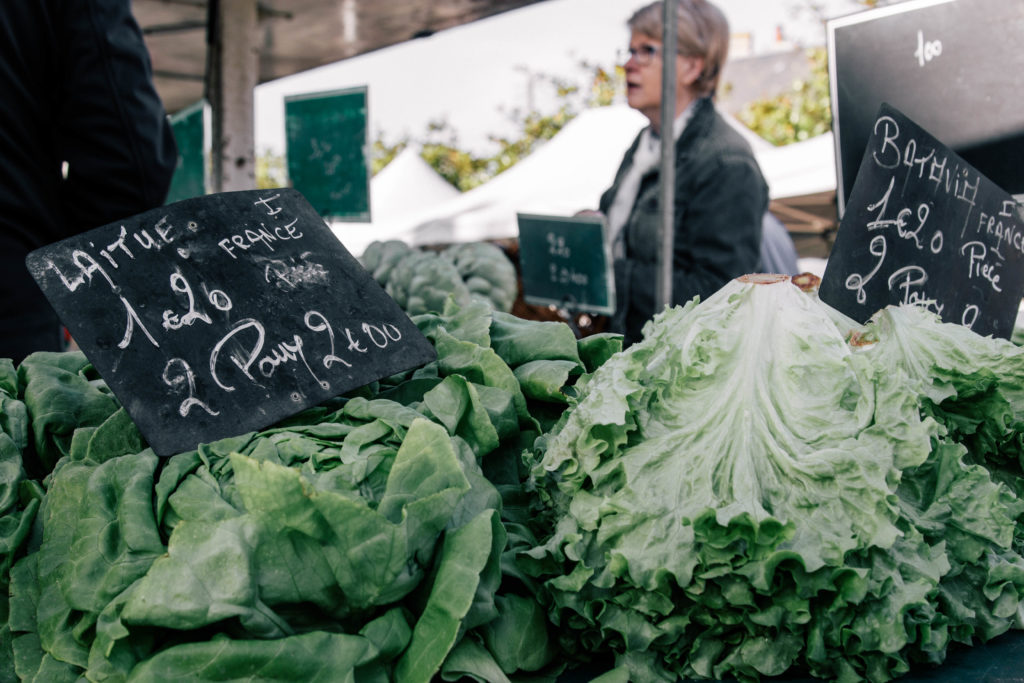 We stopped next in a tiny village that looked promising. Nothing stirred, there was no one about, and yet the cemetery of the little church clearly saw visitors, as fresh flowers placed at the headstones revealed. It was one of many military churches, where soldiers who fought from these villages are buried. A cold wind blew as we read the names, some families had lost three or more members. Whole villages like this must have been left with almost no men, families torn apart. Even though we were away from the landing beaches and large cemeteries, there were reminders of the war. We paid our own little tribute to the fallen, and continued slowly on our way.
After visiting Sées, which was a larger town with a stunning cathedral (with beautiful stain-glass windows and such high ceilings you are forced to look up upon entering, just as the architects intended) we were pretty hungry. I yelled for mum to stop the car (she was getting used to my abrupt instructions and luckily we hardly every passed another soul on those roads) when I saw the perfect spot for lunch. It was like the Ministry of Tourism had set it up just for us; the most scenic spot on the outskirts of a quiet village. Meadow stretched around us, speckled white and yellow with mustard flowers and dandelions, as cows grazed languidly. A church bell chimed the hour, the only sound to break the peace, other than a tractor rumbling past driven by a jealous-looking farmer.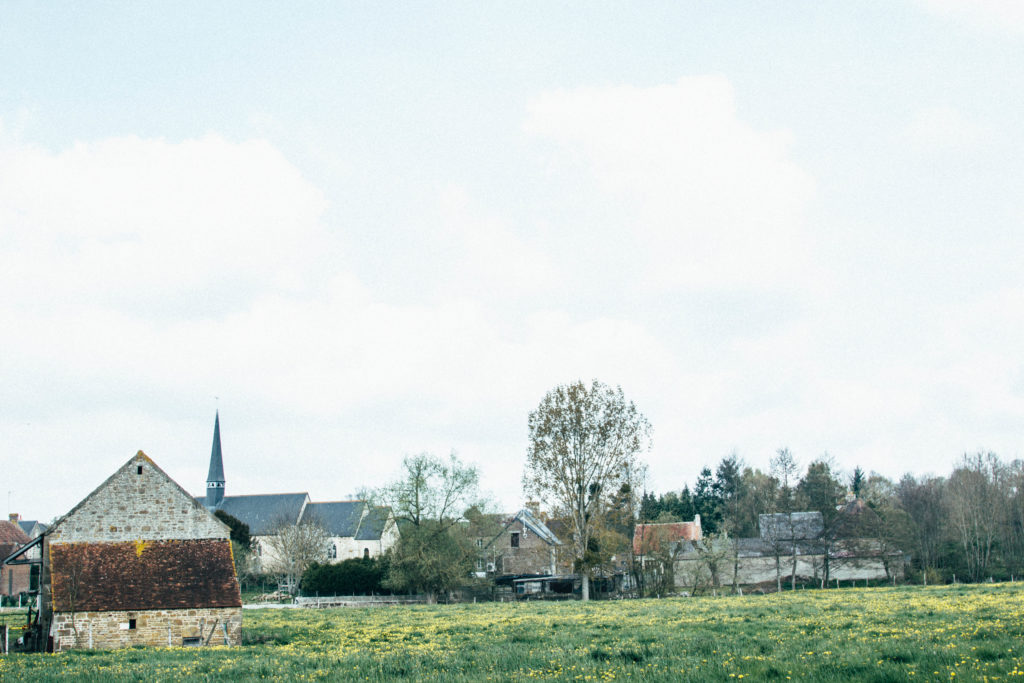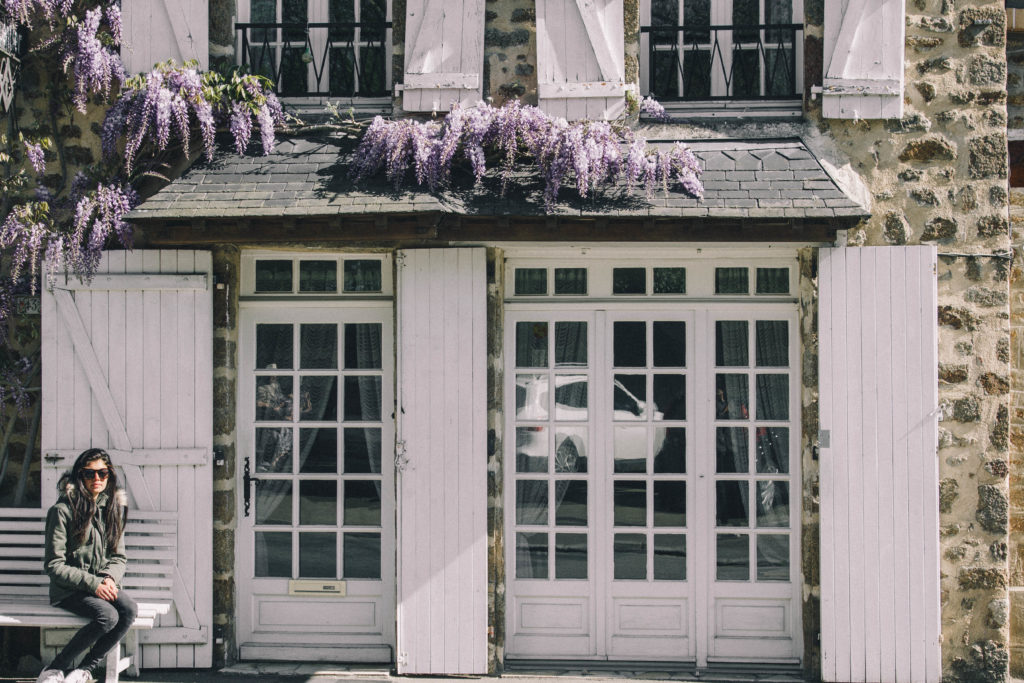 The following morning was in stark contrast to the last; a cloudless topaz-blue sky. We were eager to hit the road and were soon at our first stop, Bangnoles de L'Orne, an almost Alpine looking town set into a gorge where the river once ran. It was home to the most lovely Chateau and gardens full of spring blossom, perfect for an amble through the dappled sunlight. We wandered through the woods to the Roche au Chien (aptly named for our doggies) which had views over those gorges to the town below. Our next stop was the charming town of Lassay les Chateaux, where as the name suggested, a Chateau was in the process of being restored. As we searched for a picnic spot, we passed fields of cattle, all delighted to be out in the spring sunshine after the long winter. We stopped on quiet back roads to say hi and get some photos of them, prompting farmers passing on tractors to break into laughter.
Our final day dawned cloudy and grey, Maya deemed it the best weather for photos. I had planned a final route, this time heading more northwards. We threaded through rolling hills, forests and farmland of deep rich green. Apple blossom trees lines the roads, white petals fluttering to the ground like snowflakes. We stopped in a tiny village that could have been a poster girl for the whole region; stone cottages with misty grey shutters, a square little church, blossom overflowing from the trees. We strolled through the quiet streets, empty except for village cats Suzi inevitably managed to find. It could have been creepy, but this was rural France, so it was peaceful instead. Onwards we went, to the relatively much larger town of Falaise, William the Conqueror's birth place.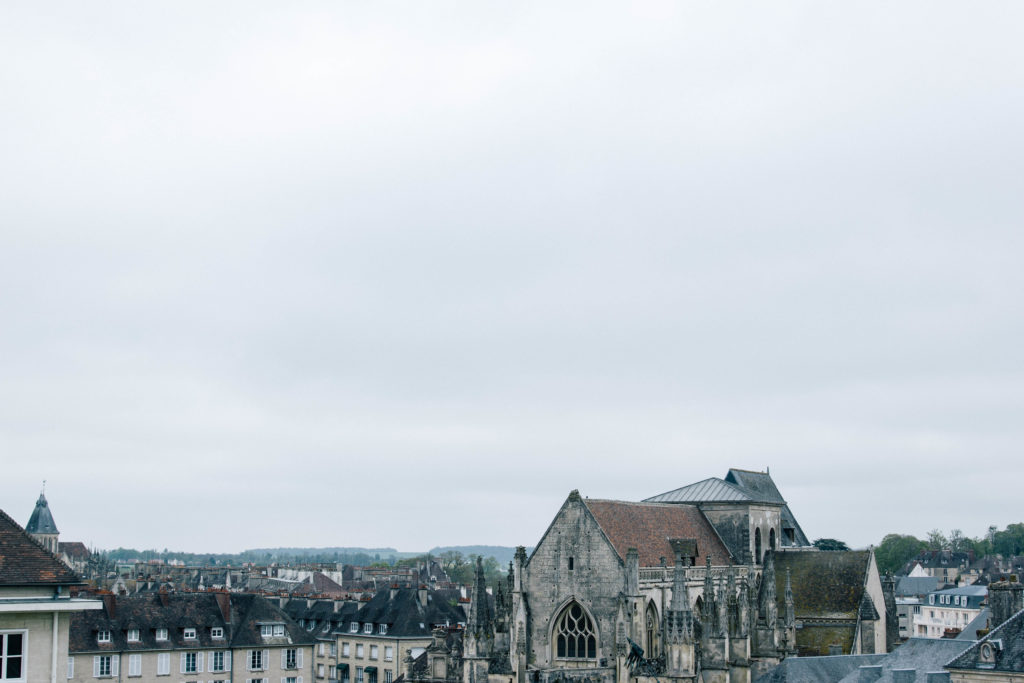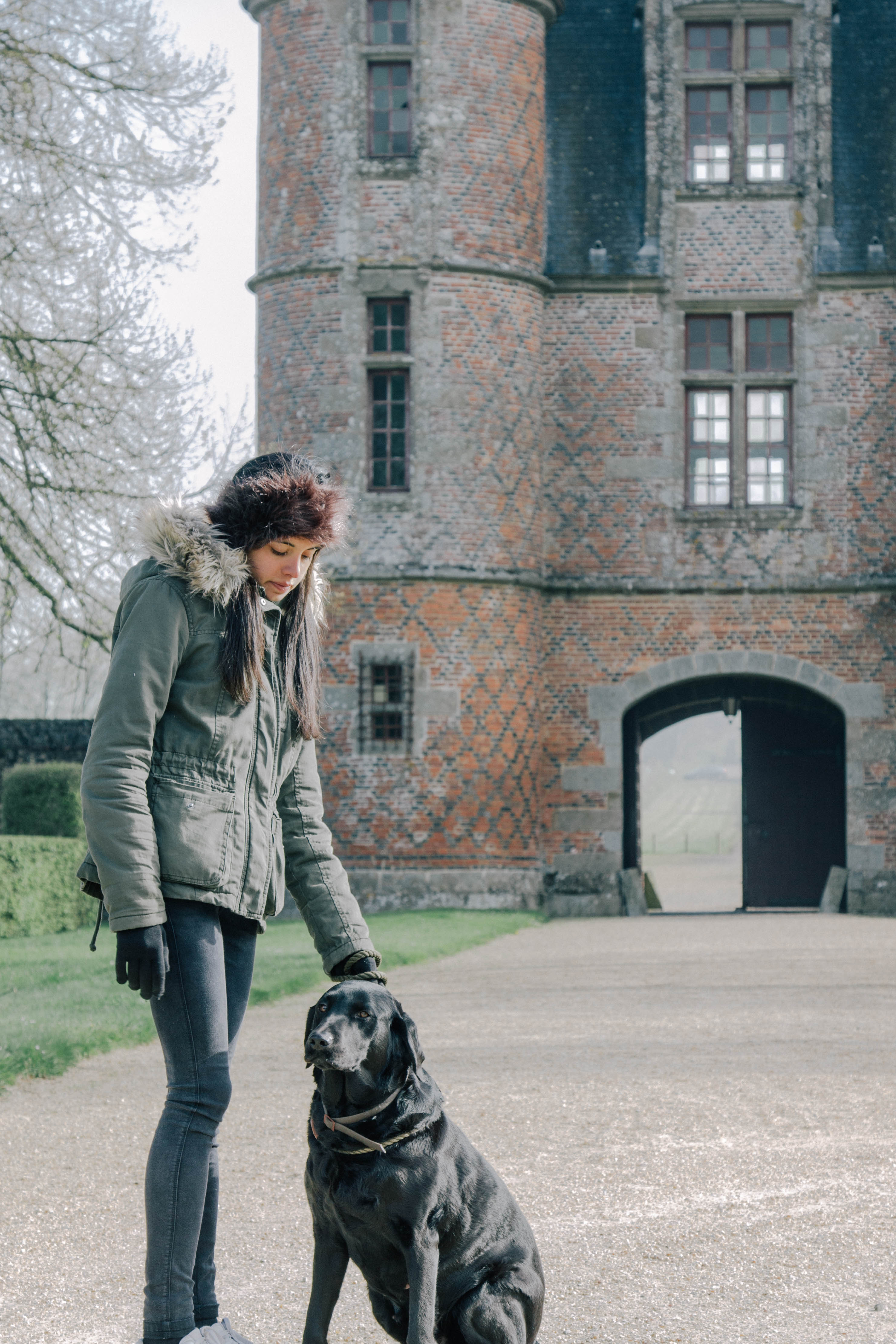 This was a proper French town; people sitting outside pavement cafes with their dogs, narrow streets of boutiques and each passer-by with a fresh baguette under their arm (one guy carried six). William's castle commanded a strategically elevated location, but it was photos that were shot from the arrow slits today. Back on the road, we headed on our circular route home. We were now in horse country; this part of France is the epicentre of horse racing and the surrounding countryside was full of stud farms. These were easily distinguishable- well manicured lawns, expensive farmhouses and lots of beautiful thoroughbreds grazing the long grass. We stopped on a quiet D-road, where there were horses grazing close by. I love horses but know that thoroughbreds aren't normally very people centred, nor can you normally get close to them since they are guarded like gold by their owners. So I was surprised when a few of the leggy beauties sauntered over to the white wood fence to say hello.
Their glossy coats shone; dark chocolate and chestnut. They were curious, but aloof, not quite friendly but certainly not unfriendly. They were only yearlings, still young, not yet raced. But you could tell that they knew they were special, that they were destined for good things; a life of competition, victories and success. Who knows, maybe we were looking at future champions that might sell for millions of dollars. Either way, they made my day.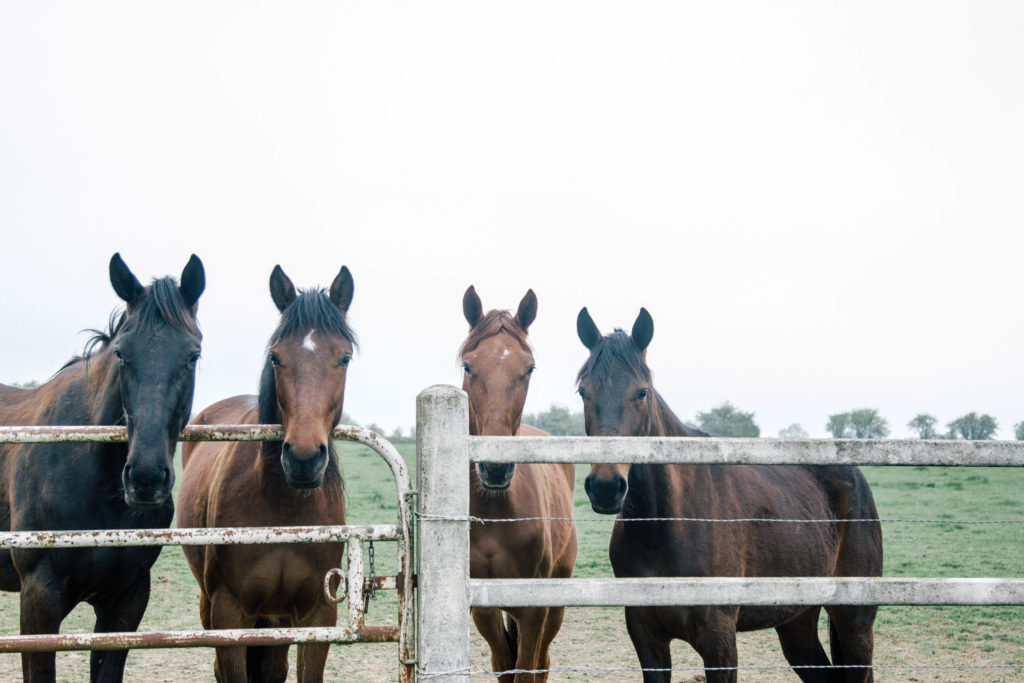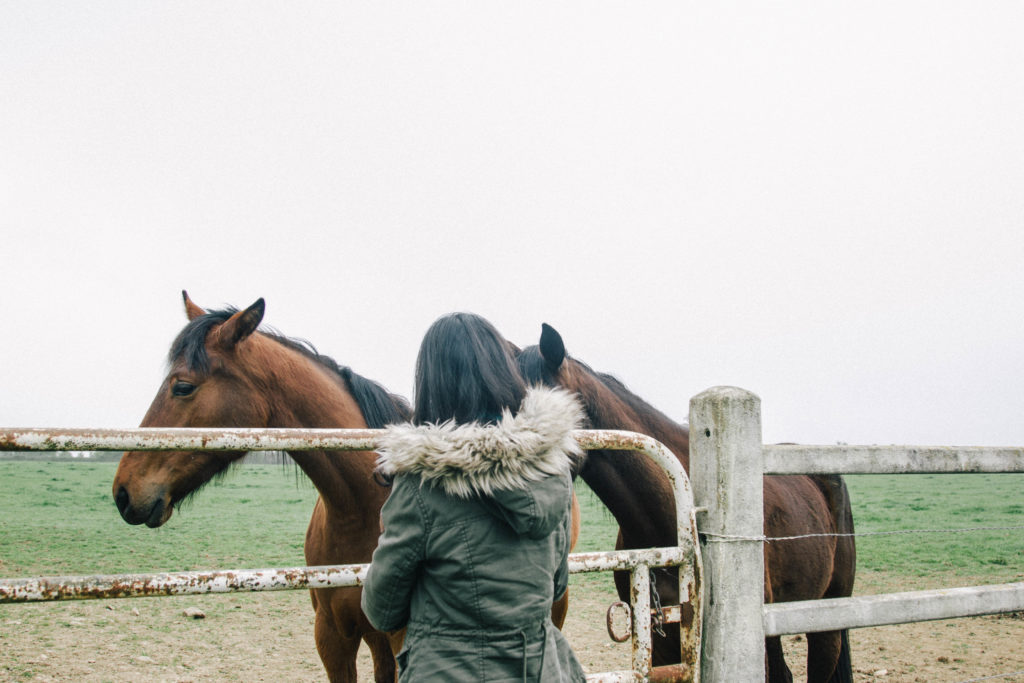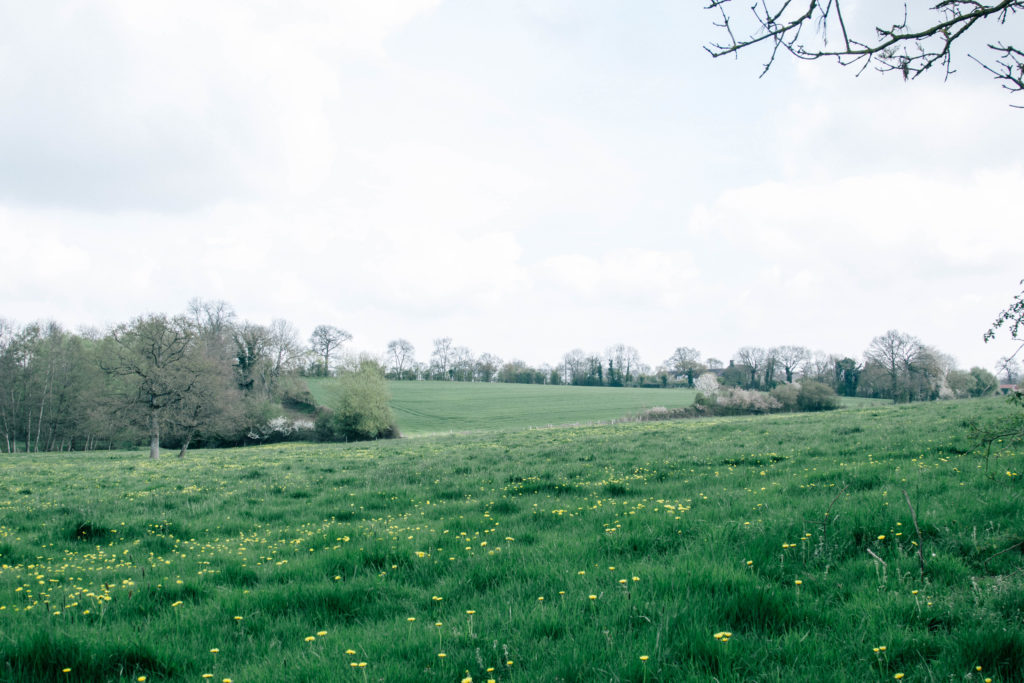 Our final picnic had to be good, and luckily I found us a spot in the village of Udon whose name left us in stitches. The sun even put in an appearance, shining on us as we ate. That afternoon, as we went for a stroll in the surrounding countryside, a flock of goats from the nearby fromagerie chased alongside us, bleating happily. The cows in the next-door farm were also rather vocal that evening, as I sat on the swing in the garden. Blackbirds joined in, singing joyously. It seemed that contentment was all round, and I felt the same way. I moved to the grass, and sat there like I had on that first evening. The peace was the same, the hush was still there. The sun slipped slowly down, staining the clouds tangerine orange and lipstick-red.
This country may have had a bloodstained history, and was perhaps in for a turbulent future but the week had shown me that France was still that special place, and à la campagne, most things never change.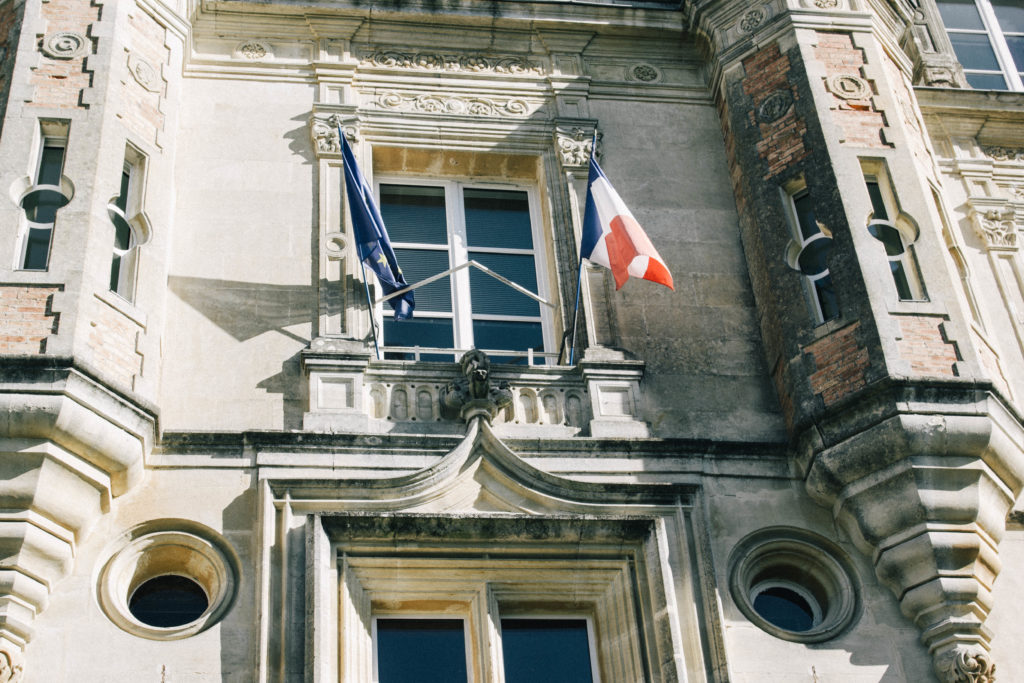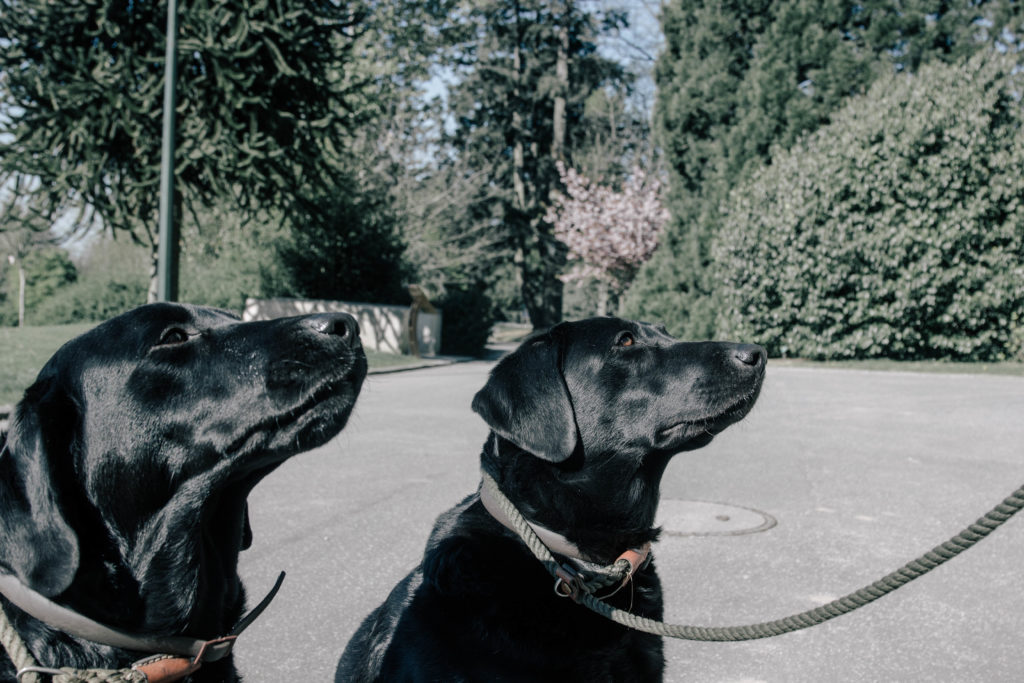 Practical stuff:
Getting here- If you are driving from Calais like we did, it takes about four hours on almost empty highways to get to this part of Normandy. The drive went by really fast with no traffic, but watch out for speed cameras- they're everywhere and tickets WILL follow you back home! The Eurotunnel is our first choice for crossing since they are pet friendly and the crossing is short (half an hour).
Where to stay- We rented through Owners Direct who have lots of options in this part of Normandy and France in general. Be warned- the owners claimed this place was fully fenced and guess what, it wasn't. So if thats an issue (dogs, kids etc) keep that in mind. Its a beautiful place though, and well-equipped.
Things to do- Lower Normandy (in particular L'Orne Normandy, where we were based) doesn't have any must-sees, which is part of its beauty in my opinion. The Landing beaches, Bayeaux Tapestry and Calvados tasting are further north, and hour or two's drive away (so a possible rainy day activity). Nearly empty roads make it fun to explore by car.
Other stuff- Spring is a lovely time to visit, before the heat and crowds of summer, with the addition of blossom in full bloom. We were lucky to be blessed with fine weather, but if you're prepared for showers its worth a gamble.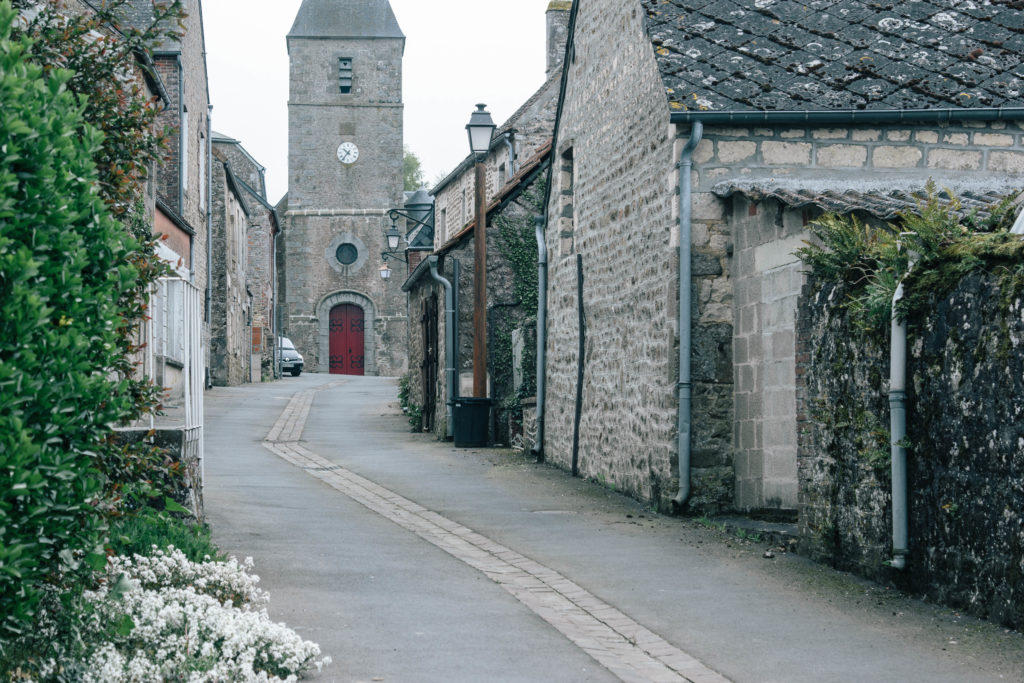 This beautiful region of Normandy won my heart- I see a Grand Designs style project coming up…
Thanks to Maya for the beautiful photos and the doggies for being such good girls on the trip xx