Pale grey misty clouds lay over the sleeping city. They formed layers interspersed with rosy-pink sky, like the tiers of an elaborate wedding cake. The sun emerged from this canvas, rising slowly, enjoying its moment in the spotlight as cameras clicked all around. The sky was soon filled with bright blue; the temperature already rising, the sunrise show over, for today at least.
Rome is that city; that magical, fairytale, historical, beautiful, complex, storybook one that you know so much about before you even arrive. Like a cousin that your family keeps mentioning so when you finally meet them, you feel like you've known them for years. And yet, Roma is full of surprises, just like that cousin you thought you knew. We only had three and a half days to experience as much as we could, not enough time for a city as varied as Rome. Still, we didn't do too badly…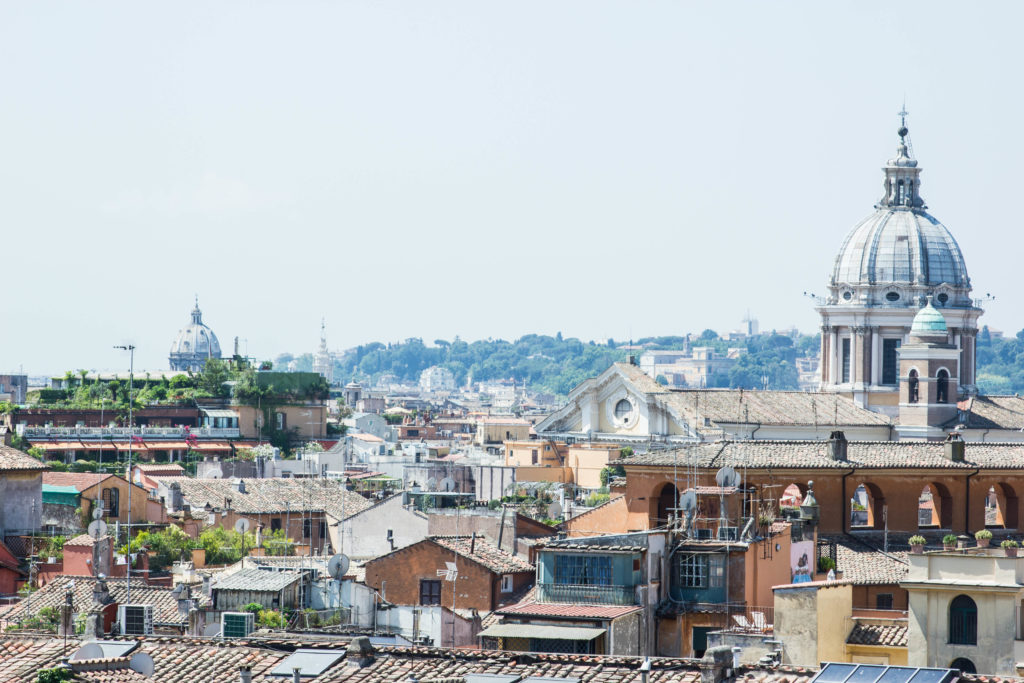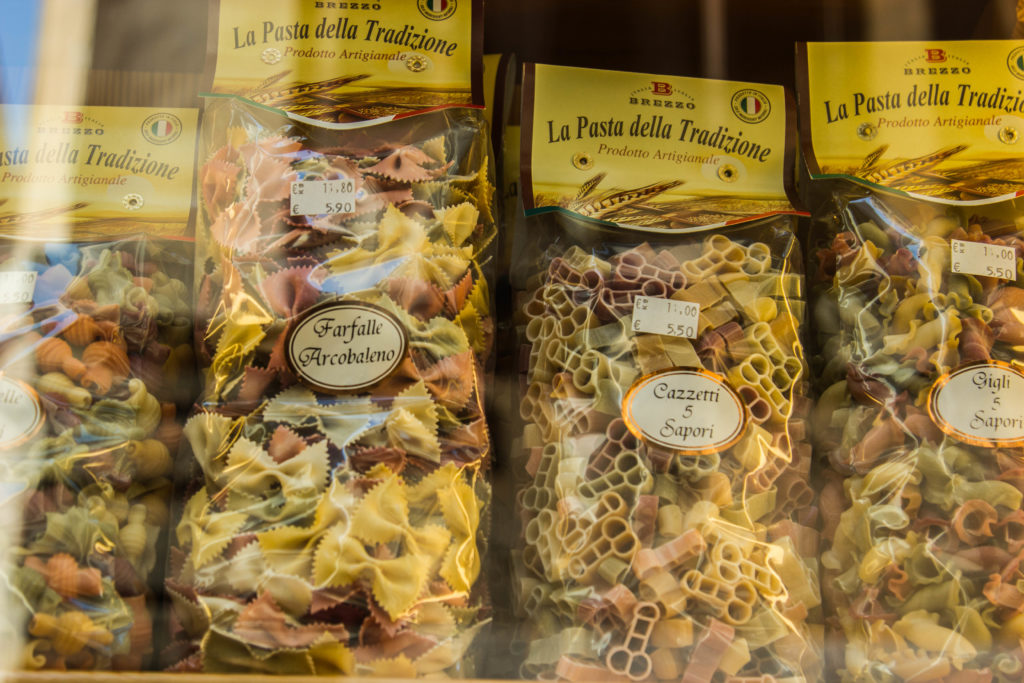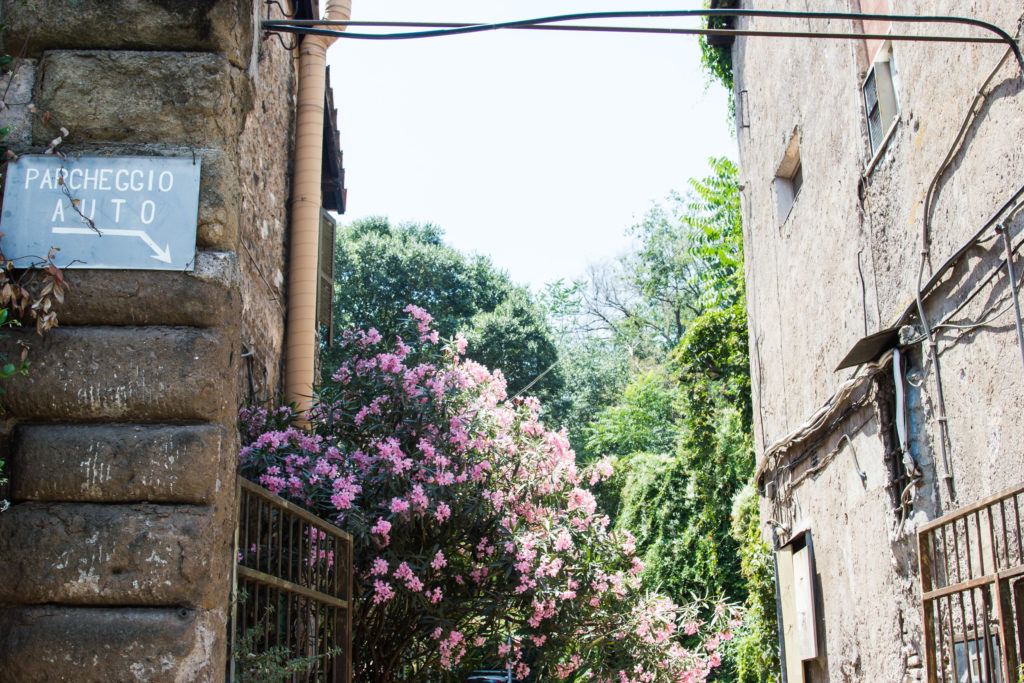 We were staying in Trastevere, that tongue-twister titled neighbourhood which I never did manage to pronounce, much to the chagrin of taxi drivers. Our apartment was the ground floor of a buttermilk coloured townhouse; fully air-conditioned, with white tiled floors and a little patio full of flowering plants. Owners Gian Carlo and Valeria were there to meet us and give us maps of the city. They live right next door, along with their two beautiful Maremma sheepdogs, (a special Italian breed) Moto and Ambra, who entertained us most evenings by crossing almost above our heads as they moved about their garden.
There was plenty to entertain us in Trastevere too. We dumped our bags and set off on foot to explore. Since we were away from the historic centre and by default the tourist crowds, we could get a glimpse into every day Roman life. There were the bambini who would stroll to school with their mothers, the lady who sat at the same pavement café and shared her gelato with her labrador. There was the jogger who sang loudly as she charged up the hills, the market stall owners setting up each morning, people buying pizza ingredients for dinner. The streets were wide and leafy, the houses large and palm tree lined. The view from the top of Via Garibaldi was worth the uphill slog, especially for the aforementioned sunrise show.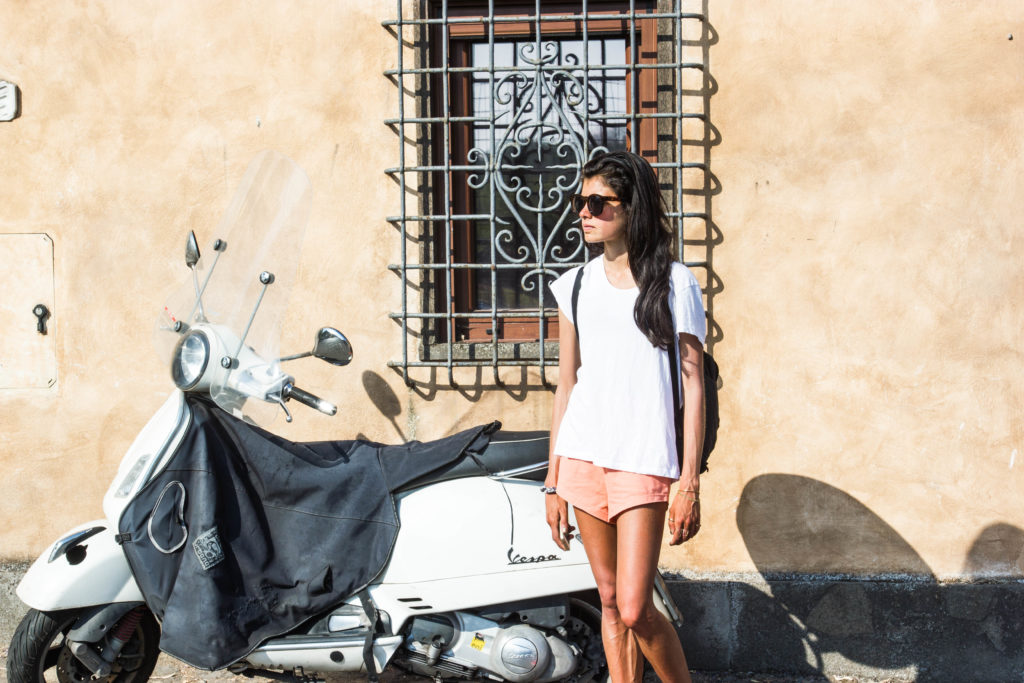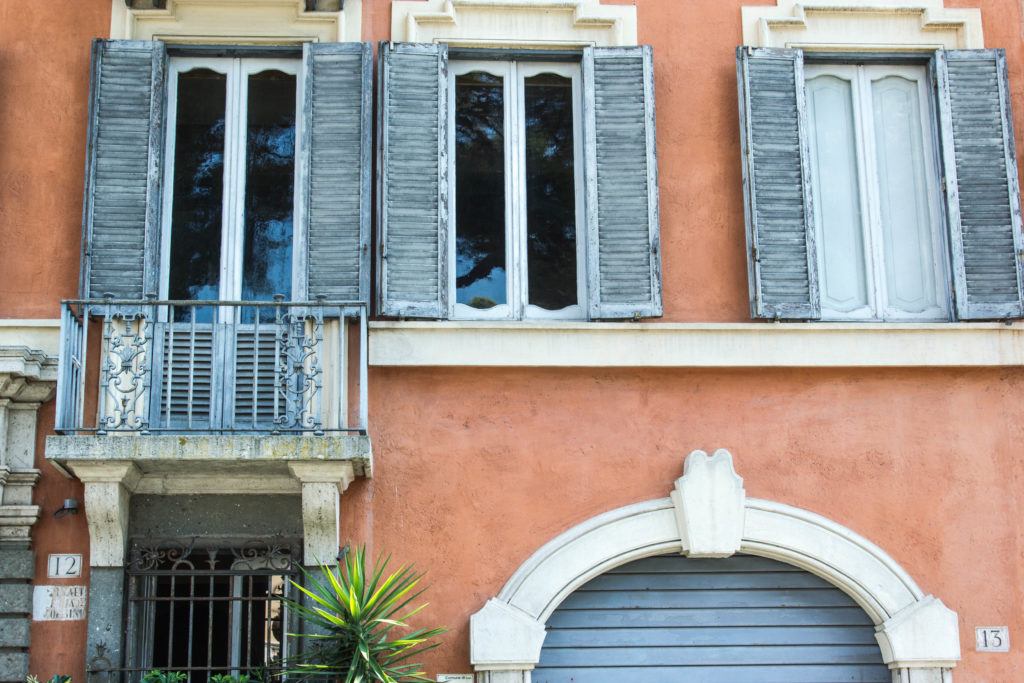 Our first full day. We were starting at the bottom: today was to be dedicated to Ancient Rome. After breakfast on our little patio, we were off. Our first stop was Palatine Hill, right next to the Forum. We were some of the day's first visitors and got to wander among the ruins virtually alone. Its a vast site with lots of uphill climbs but the sun wasn't too sharp yet. There's not much left, but to know its stood there for thousands of years is awe inspiring. The Forum was next. Caesar's asassination spot is now full of baseball cap-sporting tourists listening to audio guides. But in the quieter corners I could feel the powerful history of the place, almost hear the stories.
Next up was the big one, The Colosseum. I've wanted to see it ever since reading Asterix comics. Its just as impressive in person, although the experience is spoiled somewhat by the sheer number of visitors lining up to get inside. Still, it wasn't hard to imagine the roar of the crowds as gladiators were led into the ring. By now the heat was intense and we were exhausted, so we strolled over to Aventine Hill, another one of Rome's seven hills, which houses a multitude of churches, convents and parks and is the perfect place for a summer afternoon. The orange garden was an oasis of peace, with view across the city and the fragrant scent of citrus in the hot air. We joined a small crowd waiting to peep through the magical keyhole in the wall of an old convent. It was incredible to see the basilica of St.Peter far in the distance framed perfectly by trees and hedges. Optical illusion, or real? We decided it was real…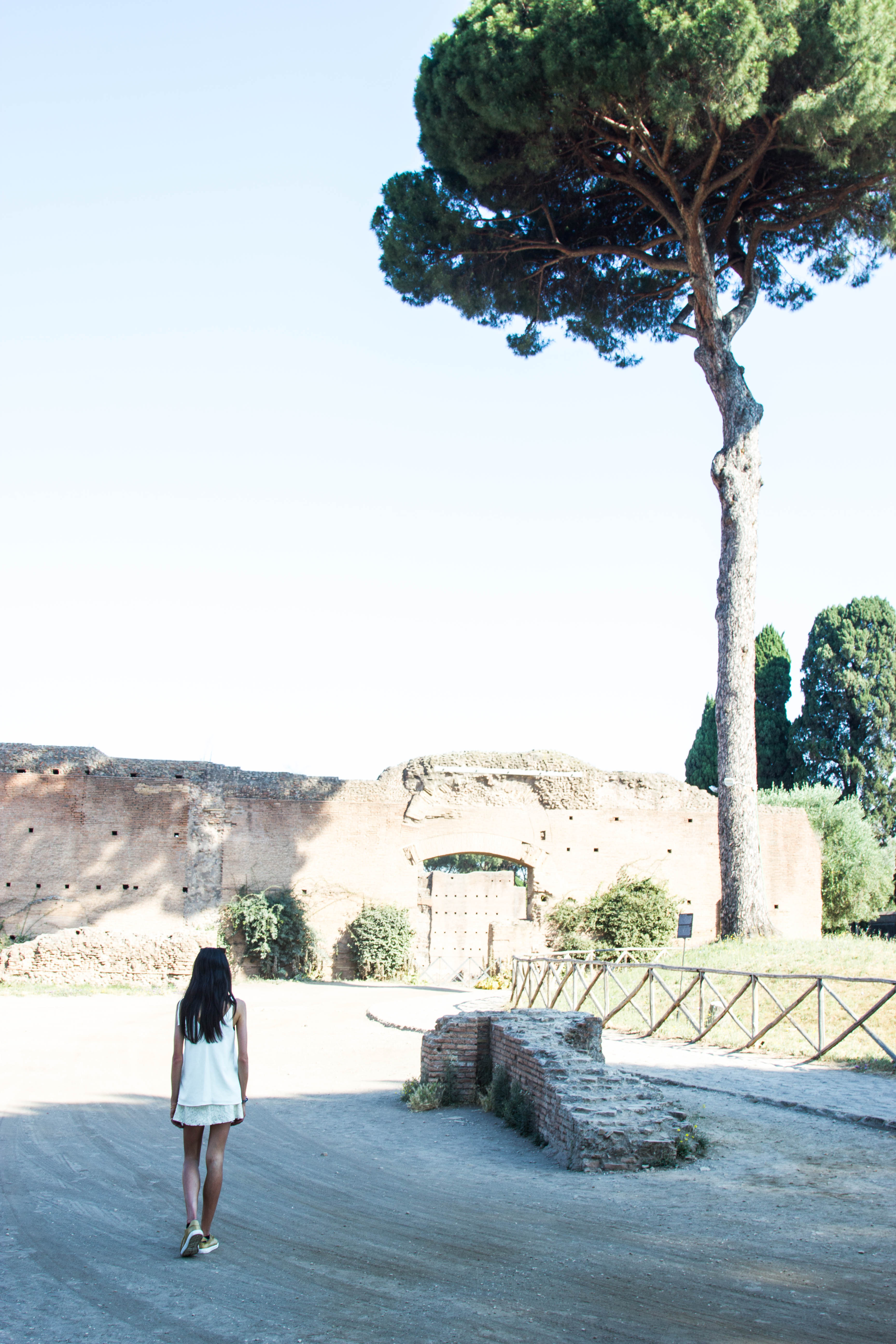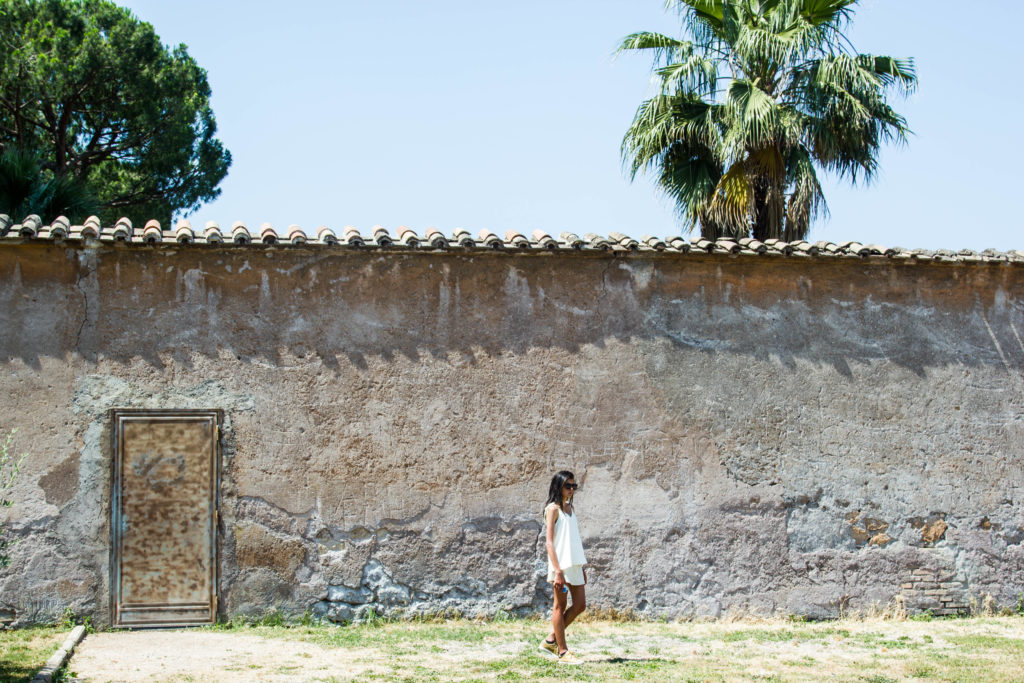 We discovered the rose garden, full of delightful blooms in every shade and decided this was the spot for our picnic lunch. Then, it was siesta time (when in Rome, after all), so we headed back to the apartment for a lazy afternoon of napping in the shade, which was to become a daily ritual after a sweaty day exploring. By late afternoon, we'd join the locals for their daily passeggiata, a leisurely stroll when friends meet to socialise as the day comes to the end.
The next day, and we were moving up through history, basing our selves in the historic centre. We started with The Pantheon, which was just opening as we arrived, so we waltzed in, again some of the first visitors of the day. There was a sign of Dos and Don'ts as we entered, with clear instructions 'not to lie down' amongst other things. I laughed at first, but was soon silenced by the vastness of the structure; the Pantheon is the world's largest unreinforced dome. I could understand why that sign was there- I'm sure many a visitor is overcome by the celestial splendour of the frescoed walls, marble statues and the light pouring in from that high, high ceiling.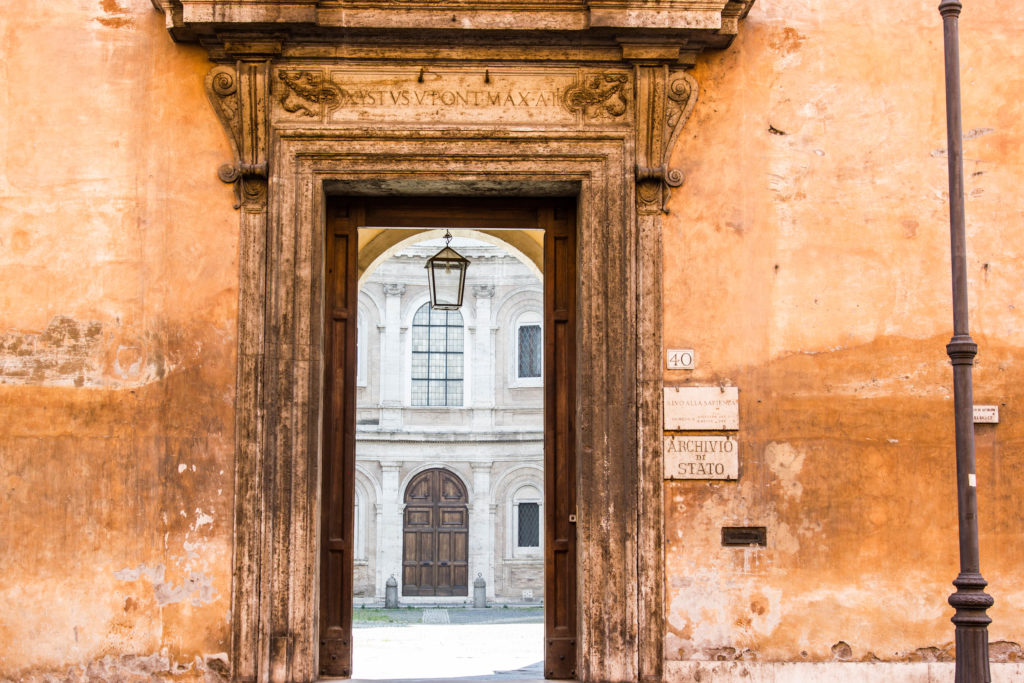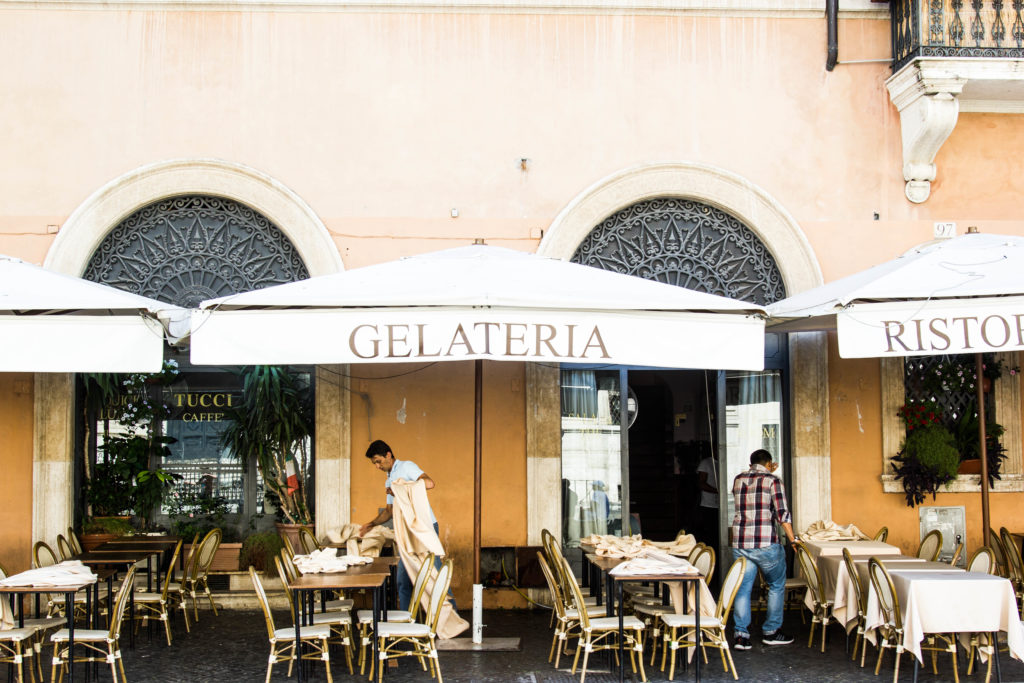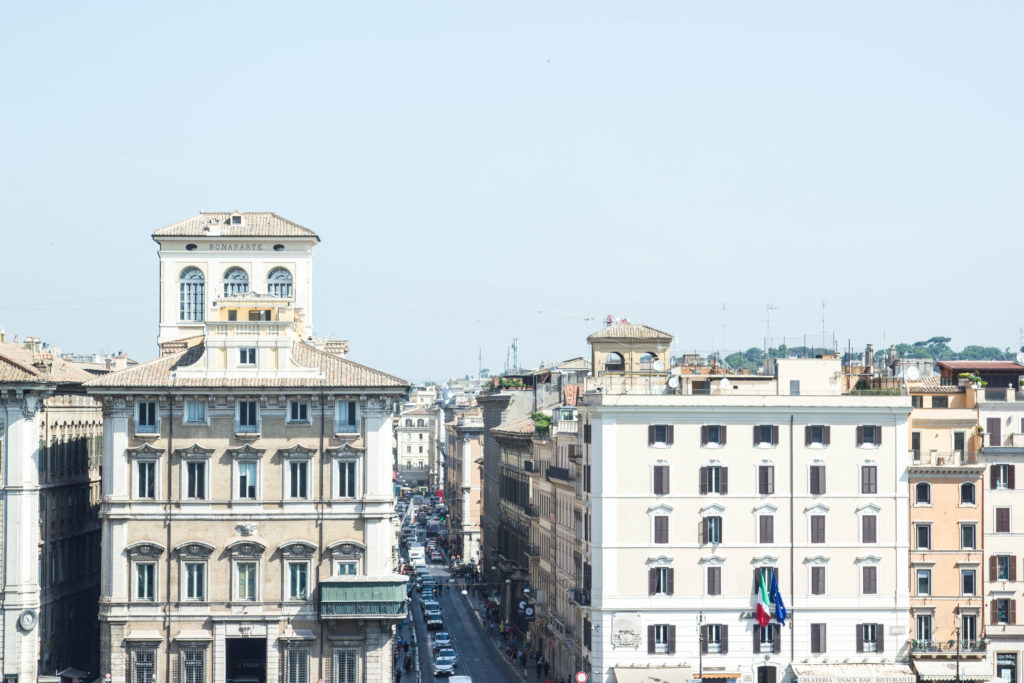 Having managed to stay on our feet, we set off on a loop of the 'must-sees': the Trevi Fountain, Spanish steps and the Piazza Navone. The Piazza was beautiful; a large square lined with buildings in gelato shades of butterscotch, tangerine and coffee. People chatted in busy trattorias, as pigeons fluttered among the outdoor tables looking for crumbs. Before lunch, we made one last stop at the Palazzo Venezia, a marble fortress of a building with hundreds of steps. We duly climbed to the top, blinded by the sun reflecting off the white stone but were rewarded with views stretching over Rome. A hodgepodge of spires, steeples, domes and rooftops spread in all directions in a palette of terracotta, ochre, burnt orange and mustard yellow. There was no glass, steel or concrete; yet every building was beautiful. After taking it all in, we retired to Villa Borghese, a sprawling park where we had our picnic lunch. A lazy atmosphere prevailed; people slumbered in the heat, chords of a guitar drifted in the air, boats were rowed lethargically around a lake. We were soon heading back, for our own siesta.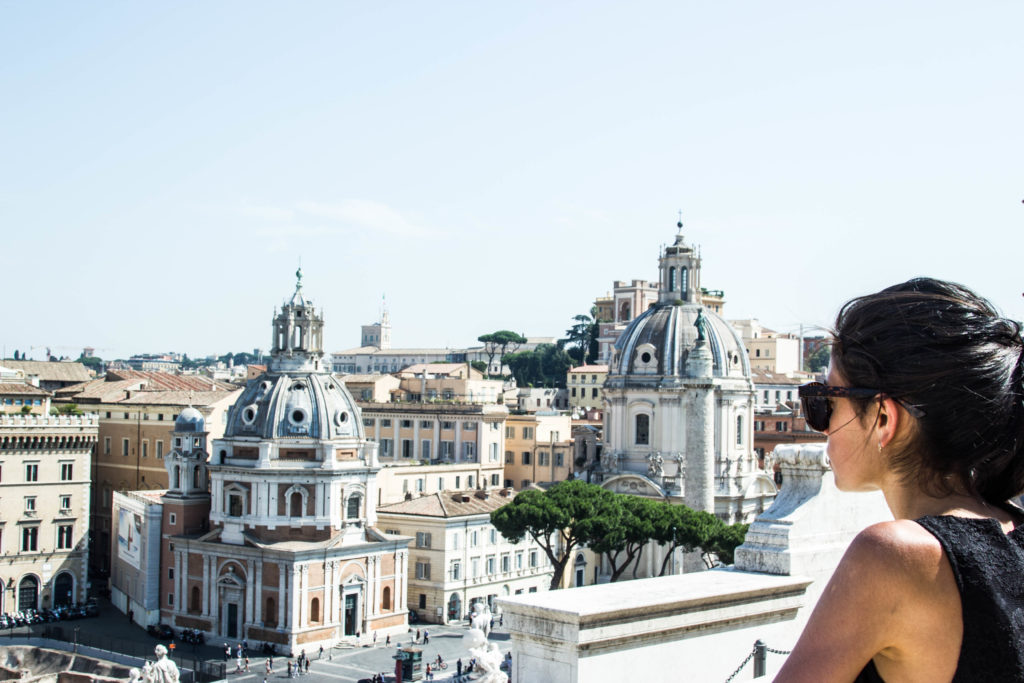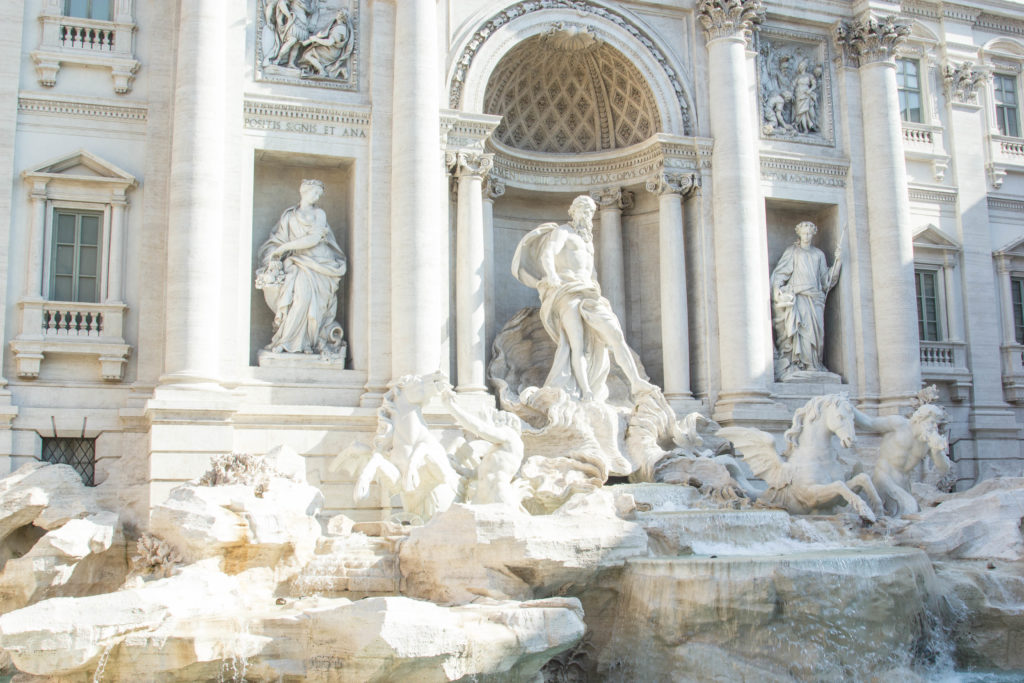 On our last day, we decided to do something a bit different. The Via Appia Antica is one of the oldest roads in Rome, built by the Ancient Romans. It is still well preserved and forms part of a national park and leisure playground that's perfect for exploring and getting a flavour of the Italian countryside. Again, we started early, the sun's heat still a promise as we took our first steps on the old stones of the road. Cyprus trees lined the paths, like sentries on duty, casting long shadows in the morning sun. There were few other people; just a handful of bikers and some walking their dogs. We wandered slowly, passing cottages cloaked in ivy and fields freckled with white and violet wildflowers.
Every so often, we would stop at a historic sight to have a nose around; there was Capo di Bove,  which was being excavated and had shady paths and benches from which to admire the delicately frescoed floors. The sun beat down as midday approached, and we explored another set of ruins, the large Villa di Massenzio. It was so hot by now that the horizon melted into a sticky blur, heat visibly rising from the bone-dry earth. It was quiet, empty and vast. We walked into the middle of that space and lay down on the prickly grass, under that fierce sun. We might not have been able to at the Pantheon but we could here. We lay there till the intensity of the heat was too much, and then walked away wordlessly.
Historic sights do some strange things to you.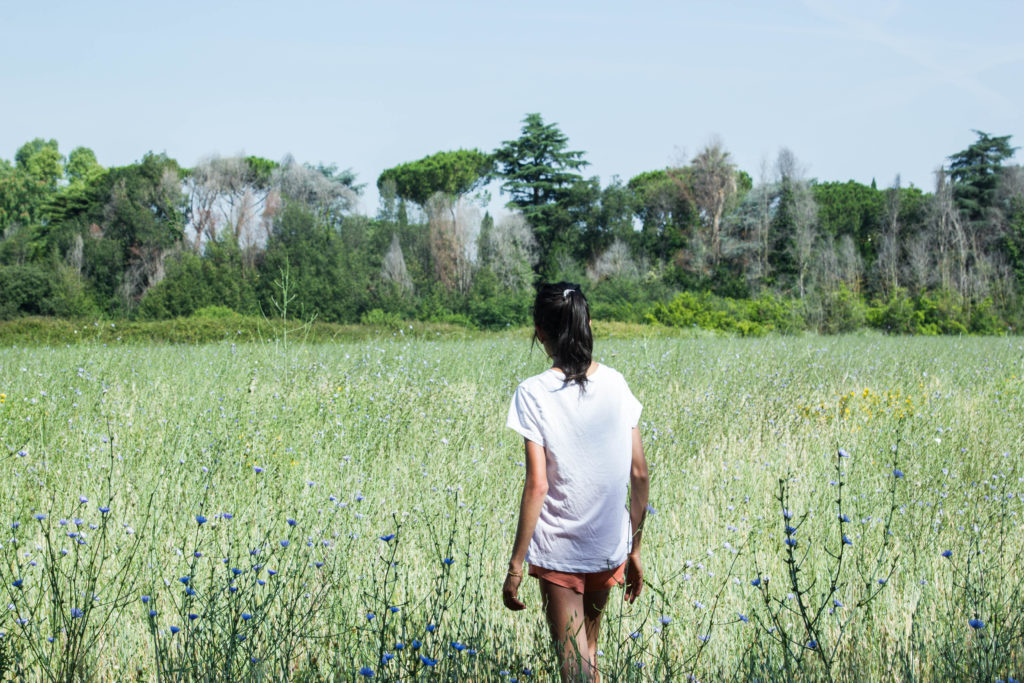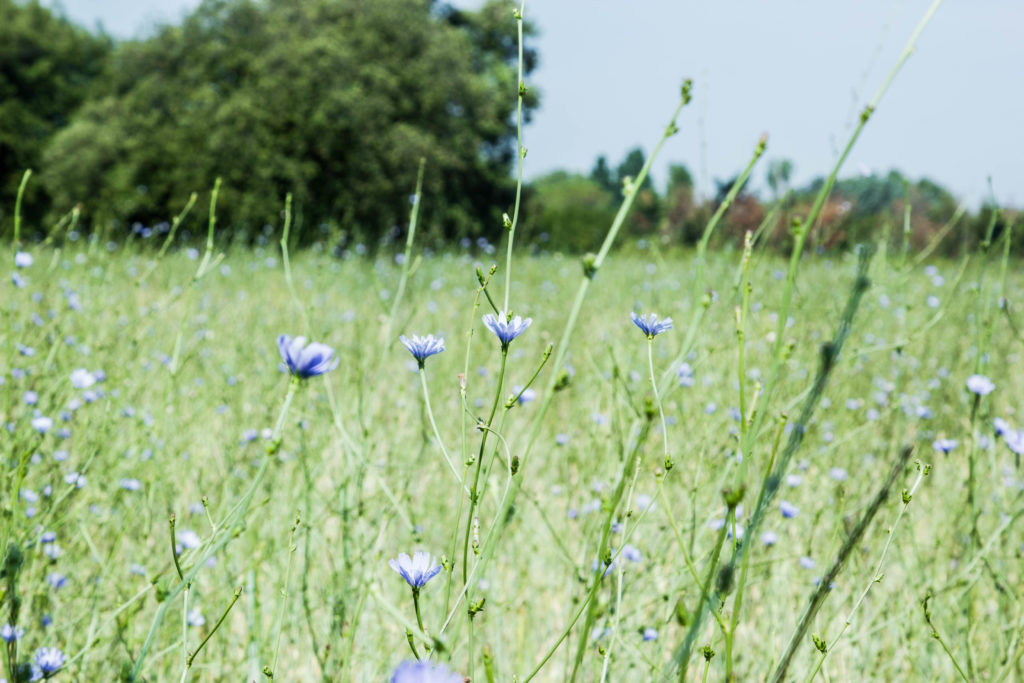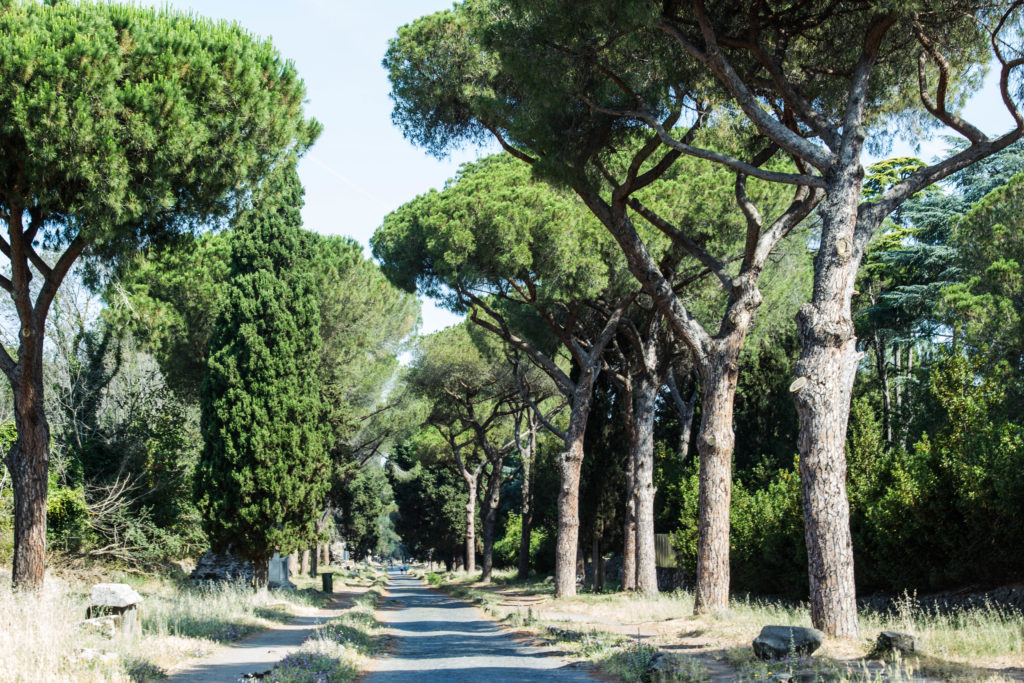 We found a more sheltered spot for lunch, under a tree next to a crumbling little church. I slipped off my shoes and lay back on the grass. Birds sang and church bells chimed melodically, la dolce vita for sure. Consulting one of the maps I'd picked up earlier, I traced the route we'd taken that day. We'd turned around after almost six kilometres… which meant we'd walked double that by now. It sure hadn't felt like it, such was the joy of the adventure, the fresh air and scenery. Such is Rome, I guess.
Three days were over in a blur. Ciao, for now, Rome. It won't be long till I'm back.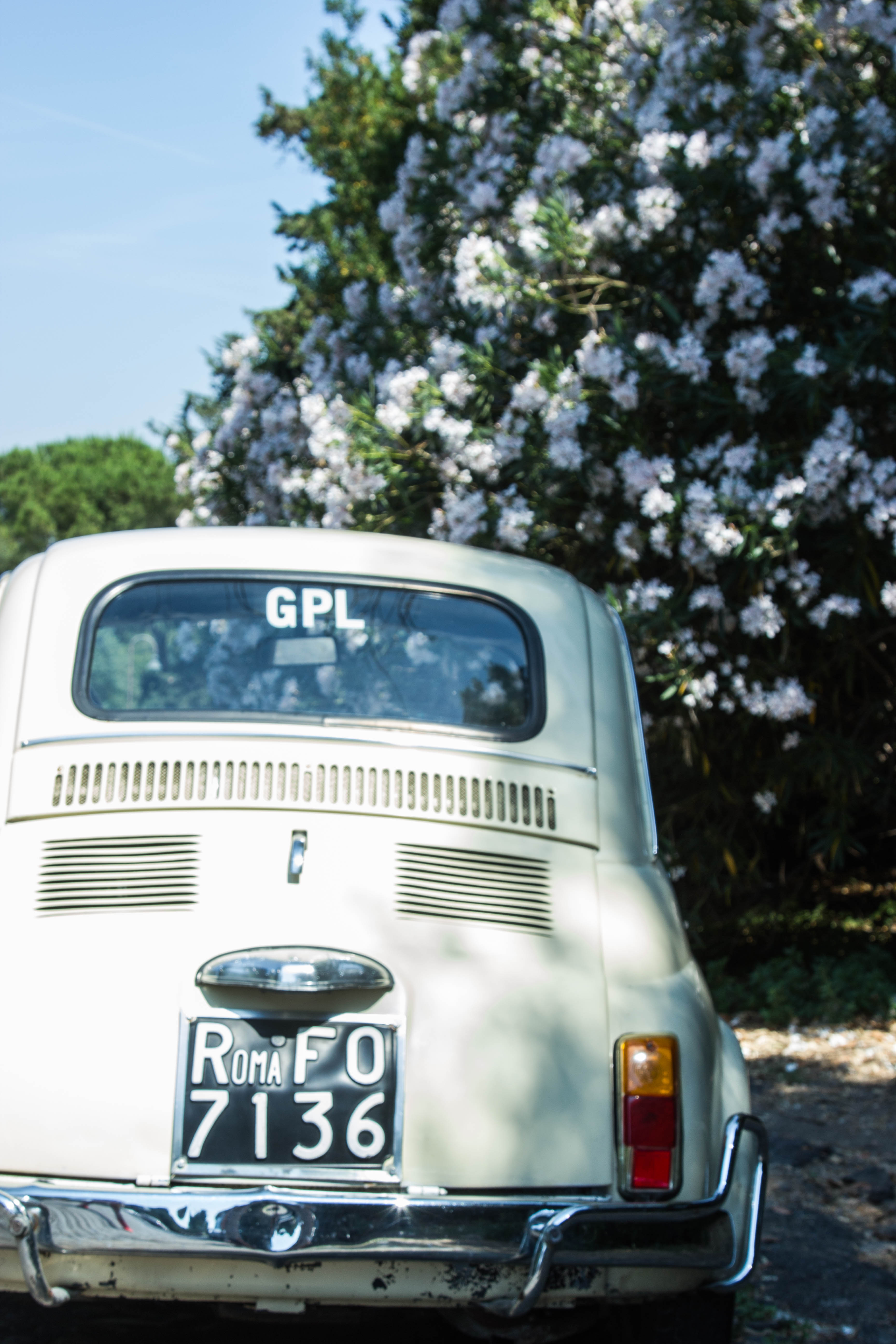 Practical stuff:
Getting here- Rome has two airports: Ciampino (which we flew into and is mostly served by budget airlines, like Ryan Air) and Fiumicino (which we flew out of and is used by normal airlines, and confusingly, Easyjet). Both are about 30-45 minutes from the city centre and have plenty of taxis to take you there.
Accommodation- I booked our place through HomeAway. It was a great choice even though I do say so myself… but there are lots of properties all over Rome depending on your preferences. The Trastevere neighbourhood makes a good base- about 15 minutes from the centre but a world away from other tourists.
Things to do- The Colosseum, Forum and Palatine Hill can all be seen on one ticket valid for two days but it makes sense to do them all on the same day since they're all next to each other. There are discounts for students and its free for under 18s. Everything else we visited was free! All the gardens, piazzas, steps and even the Pantheon are gratuito. Via Appica Antica is close to the centre by taxi and you can rent bikes or just walk to explore it, pick up maps from the helpful tourist centre before you start. Many of the historical sights along it are free to explore, too.
Other stuff- Don't panic about long lines, I'd read they could be murder especially for the Colosseum. Do what we did and buy tickets at Palatine Hill where there are no lines, then (almost) breeze into the Colosseum on the same ticket. Score. If you visit in summer like we did, you'd better be prepared to eat a lot of gelato. Good excuse, right?
Thanks to Maya for the bellissimo photos, you can see more at Nutmeg and Pear 🙂